400 march for science in Mumbai, demand increase in funds for research
Updated on Apr 14, 2018 11:38 PM IST
They also demanded an increase in funding for research and education.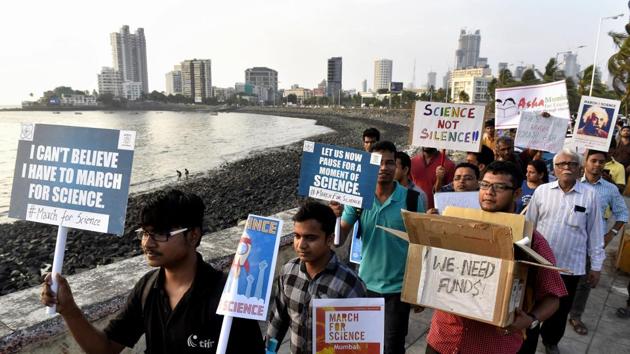 Hindustan Times |
, Mumbai
Aayushi Pratap
In order to promote the culture of scientific thinking, city-based scientists, researchers and students participated in the nationwide 'March for Science' event on Saturday evening.
They demanded an increase in funds for research and education. Around 400 people walked from Nehru Planetarium, Worli to Haji Ali, holding placards with messages that read, 'Defend Science, Don't De-fund Science'.
The March for Science was an event that started last year, globally, by scientists to promote the inclusion of evidence-based science in public policies.
Faculty members of leading city-based institutes such as Tata Institute of Fundamental Research, Tata Institute of Social Sciences (TISS), Indian Institute of Technology-Bombay and Homi Bhabha Centre for Science Education were amongst the participants. They have called out the government to increase its expenditure on Research and Development to at least 3% of its Gross Domestic Product (GDP) and 10% for education.
"India has a bad performance with its expenditure on research and development, less than 1% of its GDP. Places such as South Korea, China spend close to 3%. This essentially shows lack of interest from the government in science," said MC Arunan, who heads the Collaborative Undergraduate Biology Education at Homi Bhabha Research Center.
They unanimously criticised the unscientific statements made by ministers, such as junior human resource development minister, Satyapal Singh.
Earlier this year, he said that Charles Darwin's theory of evolution of man was "scientifically wrong and needs to be changed in school and college curriculum".
"We have always had problems with ministers saying silly things. Currently, this has become endemic which is a matter of great concern." said T Jayaraman, professor, school of habitat studies, TISS.
An elderly couple, Srikrishna Dani, 70, former TIFR professor in the department of Mathematics and his wife Jyostna Dani, 70, a former professor at University of Mumbai, travelled from Panvel to participate in the March.
"Many of us are concerned that the importance science once had in India is depleting. There is a neglect for science," said Srikrishna Dani.