Beach clean-ups in Mumbai inspired global Clean Seas campaign: UNEP head
Updated on Mar 08, 2017 10:23 PM IST
Top officials from United Nations Environment Programme lauded India's efforts to introduce solar energy in both the urban and rural settings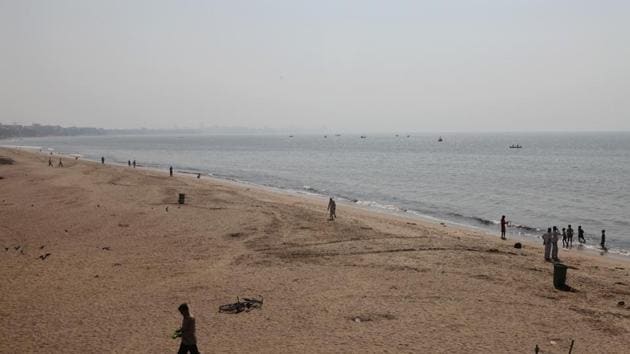 The Clean Seas global campaign that was launched in Indonesia during the last week of February was inspired by beach clean-up efforts in Mumbai over the past 18 months, said top officials from the United Nations Environment Programme (UNEP) on Tuesday.
UNEP head Erik Solheim, on his second visit to Mumbai, told Hindustan Times about the plans for the global beach clean-up drive and the way ahead for Indian cities to tackle other environment related issues.
"Inspired by Afroz Shah and other Mumbai residents, who have kept Versova Beach plastic free for over a year now, we launched our international campaign, a global war against marine litter, in Bali, Indonesia on February 25," said Solheim. "Similar to the Versova Residents Volunteers (VRV), a parallel group in Bali has been initiated and chalked out a plan to clear their beaches of plastic."
Over 75 weeks, city-based lawyer Afroz Shah, 33, drew the world's attention through his efforts of removing 4.9 million kgs of trash from Versova beach, cleaned up 52 toilets and removed trash from creeks, along with the civic body, local residents and fishermen. UNEP called it the world's largest beach clean-up in history and awarded Shah their top environmental accolade – Champions of the Earth award at Cancun, Mexico, making him the first Indian to achieve such a feet.
Solheim added that other countries including South Africa, some beaches in North Africa, Yemen and Southeast Asia have also joined to reduce marine litter from their city beaches. "We are trying to do three things under this campaign," he said while adding, "First to inspire individuals to clean beaches, secondly to inspire the government to levy regulation on plastic, either through recycling or a complete ban and thirdly, work with the private sector companies to expedite plastic recycling and introduce better technology for effective beach cleanups."
After Solheim and his team made their way to the city in October to be a part of the Versova beach clean-up, Tuesday's visit to the city by the UNEP team was to meet private sector companies. "We can work with the private sector to introduce renewable forms of energy to control various forms of pollution through specific projects. The idea is to move away from coal, thermal consumption for electricity to solar and from petrol, diesel vehicles to electric cars," said Solheim.
Meanwhile, Shah submitted a blueprint to UNEP on Tuesday, highlighting the future course of action for cleaning beaches in Mumbai. "I am humbled and excited that our beach cleanup drive has transformed into an international movement. As a part of our plan, we are trying to involve the state government, municipal corporation and Mumbai residents to work together and make sure that least amount of sewage ends up along city beaches during this monsoon," he said. "Once the plan is approved by UNEP, we will be making it public."
India, one of the largest solar players globally: UNEP
Top officials from United Nations Environment Programme lauded India's efforts to introduce solar energy in both the urban and rural setting. "We are impressed with Prime Minister Modi's vision of a solar future with the largest solar power plant setup in Tamil Nadu, the Kochi airport, Kerala, powered by solar and these very inspiring initiatives," said Erik Solheim, head, UNEP. "India stands as one of the largest solar players in the world and we salute PM Modi for driving that strongly as an agenda. Solar means less pollution, more jobs and abundant electricity for people."
Versova beach clean-up: Where it stands?
- 75 weeks completed
- 4.9 million kg of trash removed
- Northern and southern parts of the beach cleaned up (90% beach cleaned up)
- Weekly cleanups focus on the central part of the beach
- 52 toilets cleaned up along the beach to stop open defecation
- Plan submitted to UNEP for effective cleanup before monsoon
(Source: Versova Residents Volunteers)
Why should you care?
Each year, people around the world produce nearly 300 million tonnes of plastic and a similar amount of plastic waste. Of that, as much as 13 million tonnes find its way into our oceans. It is as if we were dumping two garbage trucks of plastic into the ocean every minute. The plastic wreaks havoc on our fisheries, marine ecosystems and economies, costing up to $13 billion per year in environmental damage.
What is marine litter?
Waste created by humans which is discharged in coastal or marine environment -
· Paper, textiles, glass, rubber, wood, metal, ceramics, plastics
· 60-90% of marine litter is made up of plastic polymers
· Most common plastic polymers
· Cigarette buds, plastic bags, fishing gear, food and beverage containers
(Source: United Nations Environment Programme)
READ MORE
Versova beach cleaned up, but residents brace for immersion garbage
This lawyer spearheaded the world's biggest beach clean-up at Versova