Start composting waste as Thane Municipal Corporation will stop collecting garbage from June 15
Updated on Jun 03, 2018 01:23 AM IST
A handful of housing societies are composting waste; others cite space and fund crunch for delay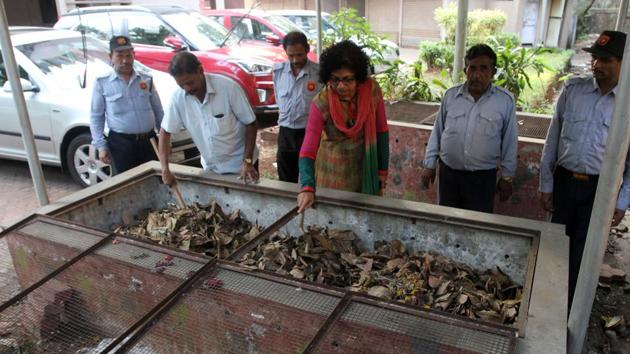 The city might see piled-up garbage everywhere as Thane Municipal Corporation will stop collecting garbage from June 15.
After giving many deadlines for residents to start treating wet waste, the TMC has finally sent out notices to residential and commercial establishments, informing them that the garbage collection will stop from June 15.
Deputy municipal commissioner Ashok Burpulle said, "We have served fresh notice to all the housing societies which generate more than 100 kg garbage a day. They have to start treating the wet waste, send the dry waste for recycling and hand over the hazardous waste to TMC by June 15."
While the corporation said they cannot delay implementing the HC's order anymore, residents face issues such as lack of space or funds for setting up a waste treatment plant.
As per the new solid waste management rules, all residential and commercial complexes are supposed to segregate their own waste.
"All commercial establishments should treat their wet waste and recycle the dry waste," Burpulle said.
Those who generate more than 100 kgs waste a day will have to treat the wet waste instead of handing it over to the TMC.
"We will stop collecting any dry and wet waste after this deadline. The housing societies which generate up to 100 kg waste should segregate the dry, wet and hazardous waste before giving it to the corporation," Burpulle said.
In November, the corporation issued notices to more than 1,000 societies to segregate and treat their own waste.
Only 8 to 10 percent housing societies have taken up the initiative.
Read more: Set up waste disposal plants or constructions will halt in Thane from 2020, says Bombay HC
Burpulle said that the societies were given several extensions since November and the corporation will now have to implement this court's order.
Till date, not even a 100 housing societies are segregating waste.
The remaining societies still continue to face several roadblocks in setting up waste treatment plant. If the corporation does not give an extension this time, the roads will be piled up with garbage.
This might lead to an outbreak of monsoon related ailments.
Bhavana Dumbre, founder of Arpan Foundation, has been going to housing societies to create awareness.
Dumbre said,"There is a general discontent among the residents who feel that since they pay taxes, the corporation should treat the waste."
"We are going to several societies in the Ghodbunder area to educate and encourage people to start treating their own waste. We are giving them information about several agencies which will set up plants or recycle waste," he said.
He added that they have also approached women rag pickers who will benefit from the dry waste collected in housing societies.
The civic body will face action if it fails in ensuring that waste is not segregated and disposed of in the right manner.
New constructions within the areas under civic body's jurisdiction will come to a halt in January 2020 if the corporation fails to set up plants to scientifically dispose of municipal solid waste.
The Bombay high court in March had given the corporation an extension for the time required to implement the Municipal Solid Waste (Management and Handling) Rules (MSW rules), 2000.