Thane will soon get floating markets to curb hawkers' menace
It will spend around Rs65 crore on the first market that is set to come up as promenades on both sides of the Mumbra Kausa Road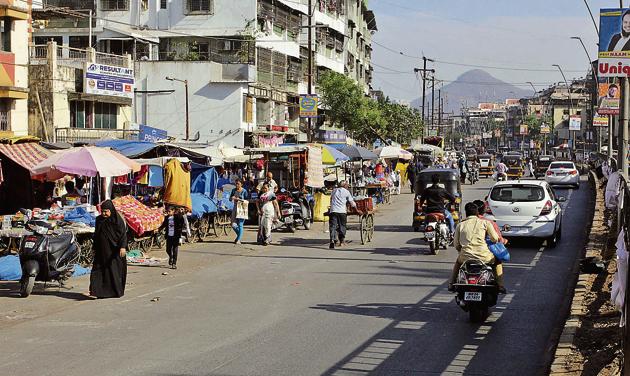 Published on Mar 30, 2018 12:47 AM IST
To end hawkers' menace in the city, the Thane Municipal Corporation (TMC) has proposed to develop hanging or floating markets across the city.
It will spend around Rs65 crore on the first market that is set to come up as promenades on both sides of the Mumbra Kausa Road. Depending on the success, the model will be replicated in other areas which are prominently encroached by hawkers.
Encroachment by hawkers is a major issue in Mumbra and the Mumbra Kausa Road is one such road.
"More than one-fourth road is covered with hawkers, making it difficult to commute on the road. The hawkers lead to regular traffic congestion in the area. We had constructed a market for them, but they refused to move in, claiming that the markets were too far from their business. Despite several drives, the hawkers returned once we turned our backs," said a civic official requesting anonymity.
The primary issue that hawkers cite while refusing to occupy markets is that they are not easily accessible to residents who are used to buying fruits and vegetables from hawkers near their home or stations. The officer claimed that they have thus come up with the idea of hanging markets, wherein the hawkers can hawk in the same area, without getting displaced. Moreover, roads too will not be encroached upon.
Anil Patil, city engineer of TMC said, "The markets will be promenades or like a deck over a specific stretch of the road. They will be aesthetically constructed with lawns, seating arrangement, food courts and hawking zones. People can access the market through stairs, ramp or lifts. They can also hang out at these promenades."
He said the hawkers who hawk below can occupy these promenades, thus, clearing the road. "Depending on the success, we will construct similar ones in other areas which are dominated by hawkers," he said.
The market in Kausa will take around one-and-a-half years for construction after the tendering process is over. The TMC also stated that only hawkers who are registered under the hawkers' policy will be able to occupy these hanging markets.
Close Story
Personalise your news feed. Follow trending topics