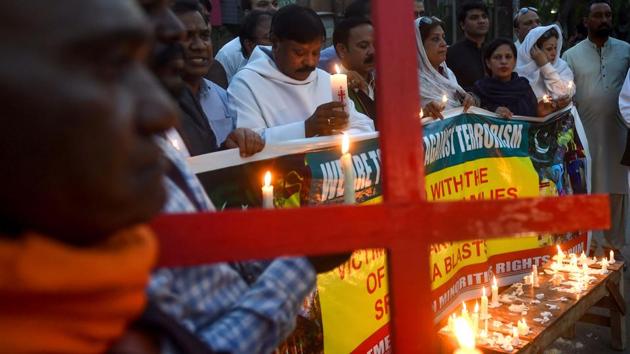 Analysis: Complacency of peace, communication failure led to Lanka bombings
On Sunday evening, a shaken Prime Minister Ranil Wickremesinghe confirmed that '(prior) information (about the strike) was there' but that it had not reached him and other ministers.
New Delhi | By Padma Rao Sundarji
UPDATED ON APR 23, 2019 12:06 AM IST
Terror attacks on religious holidays or houses of worship during peak prayer times are not unknown. Fifty Muslims including small children at prayer in a New Zealand mosque were mowed down by a white supremacist in March this year. Luxury hotels, too, are favourite targets for Islamist terrorists; after all, well-heeled nationals of the very countries whose armies are fighting radical militants in Afghanistan or Syria check into five-star establishments. On November 26, 2008, 166 persons were killed in terror attacks on - among others luxury hotels - across Mumbai.
Finally, weekends are always most 'conducive' for diabolical mass murderers because a single explosion in a busy, public square has the ability to take multiple lives.
Sri Lanka is only too well-versed in the cold-blooded logic of terrorism. After all, the country was in the throes of a 30-year-long civil war against the terror group Liberation Tigers of Tamil Eelam (LTTE) till 2009. More than 1,20,000 people were killed in what was one of the bloodiest and longest conflicts in the world.
Even the suicide vest is an object of familiarity for Sri Lanka: like the Improvised Explosive Device (IED), its earliest avatar was a home-baked invention of none other than the LTTE.
Indian intelligence agencies had reportedly warned their Sri Lankan counterparts earlier this month of a possible terror strike on churches, hotels and even the Indian High Commission in Colombo. The perpetrator, too, was named: a little-known group known as the National Thowheed Jamaath (NTJ). This information was incorporated into a top secret communique dated April 11 and duly passed on to the security detail guarding high-ranking ministers and foreign embassies in Colombo.
So how, despite all this, was it possible for the NTJ to launch eight suicide bomb attacks successfully in churches and five-star breakfast cafes in Colombo, Negombo and the eastern town of Batticaloa and kill nearly 300 persons and injure more than 500 grievously within barely an hour?
On Sunday evening, a shaken Prime Minister Ranil Wickremesinghe confirmed that '(prior) information (about the strike) was there' but that it had not reached him and other ministers.
Ironically, it is peace that lies at the heart of Sri Lanka's monumental failure to prevent what is one of the most heinous attacks in the history of the country. Up to the end of the civil war in 2009, bomb blasts were routine occurrences and Sri Lanka was in a state of permanent emergency for three decades. But 10 LTTE-free years made peacetime a given, with the bloody uncertainties of the gory past lying forgotten by the wayside.
Meanwhile, religious chauvinism of all hues, grades - and faiths - began to strike root in Sri Lanka, Maldives, Myanmar, Bangladesh, Nepal and India. Talk of approximately 12,000 LTTE cadres re-grouping in Europe after escaping the Sri Lankan armed forces' final assault during the last phase of civil war in May 2009 has never died down either: after all, their escape has been repeatedly confirmed by the Sri Lankan army itself. But since there were no major attempts by such LTTE splinter groups in exile to wreak terror in Sri Lanka so far, both Sri Lanka and its citizens began to take peace for granted. That is, till Easter Sunday this year.
What also lies behind Colombo's inability to prevent the dastardly strikes is another, weapon-less war: a silent one that has been raging between President Maithripala Sirisena of the country's oldest Sri Lanka Freedom Party (SLFP) and Prime Minister Ranil Wickremesinghe of the second-largest United National Party (UNP).
The mutual distrust between the two men since last year's political crisis which saw the president sack the prime minister and reinstate him, has only worsened. And it's not just the PM, who in his remarks on the lack of knowledge of the intelligence warning, lays the blame at the government's own front door.
"There has been a terrible lapse arising from two factors. One is the general belittling of our intelligence services by this government in line with the assumption of its leading lights like Ranil Wickremesinghe that all services need to be restrained," says Lankan academic Rajeeva Wijesinha. "The second is the fact that (our leaders) indulge politicians who foster sectarian movements. These characters may not support terrorism but they give full reign to those who propagate it, because it is their ticket to further funding."
It is true that the current Sirisena-Wickremesinghe combine has tried its best to ward off the longstanding global outcry that Sri Lanka's security forces are brutes who committed human rights violations during the civil war with the approval of the then president and current opposition leader, Mahinda Rajapaksa, by clipping their wings and curtailing some of their powers during peacetime.
But other aspects about the heinous attacks on Sunday are baffling.
The NTJ has no reported past history of terror, other than to have allegedly vandalized Buddhist statues in Sri Lanka last year. In recent years, 33 Sri Lankan Muslims did leave to join the Islamic State (IS), a fact confirmed to this writer in a television interview by PM Wickremesinghe himself, but the return of some to the country, created no palpable tension.
It is true that there has been growing Saudi Arabian influence on South Asia's traditionally 'secular' brand of Islam in the Maldives, Sri Lanka's neighbour and close ally, under ousted Maldivian president Abdullah Yameen. Speculation that some of this brand of conservative Islam spilled over to Sri Lanka and radicalized some Muslims won't die down. Sceptics point most of all to the fact that at least four radical Islamist preachers including Tariq Jamil, Zakir Naik, Ismail Menk (men banned in many countries including the United States and India) have preached to Sri Lanka's tiny and traditionally tolerant Muslim minority - the country's second -largest - over the past years too.
But other than clashes between chauvinist Buddhists and Muslims, there have been no major attacks for the past ten years. Most of all, the tiny Christian minority was left alone even by the worst perpetrators of mass murder, the LTTE, whose own leadership including Velupillai Prabhakaran, were Christians.
"So why did suicide bombers want to give up their lives to attack a small minority of only 6 per cent of the population?" asks Director of the Colombo-based National Peace Council (NPC), Jehan Perera. "Christian-Muslim relations are generally good (in Sri Lanka) as they join hands in common causes that affect them as minorities. So, even if the Islamic miitants feel that Sri Lanka has done badly by the Muslims, there would be hardly a point in attacking Christians who are also in a minority and often subject to anti-Christian actions at a local level."
This and the fact that security sources say that nearly 25 kilos of explosives were used in the attacks in the Shangri-La hotel alone, point to foreign involvement, not only in the planning and execution but also in the supply of the deadly material packed into the suicide vests.
Given the close relationship between Sri Lanka and Pakistan especially during the last phases of Sri Lanka's civil war, it would be tempting to point fingers at Pakistan-based terrorist groups, more so given the ease with which Pakistani nationals can travel in and out of Sri Lanka. However, there are no leads in that - or any other - direction so far.
For now, 2019 is presidential election year. The government's shortcomings, the terrible lapse in security and the very black Easter Sunday are all likely to boost the chances of political strongman and former president, Mahinda Rajapaksa, who has been blazing a comeback trail ever since his newly founded Podujana Peramuna (SLPP) won crucial provincial council polls last year.
Mahinda himself is debarred from another term as president, but there are plenty of aspirants in the Rajapaksa family waiting in the wings. For all the accusations of bribery, corruption and strongman tactics that have been hurled at them, there is not a single politician or ordinary Sri Lankan who does not acknowledge that Mahinda Rajapaksa was the first and only president to put an effective end to the 30 years of civil war and the LTTE's carnage.
And it is that achievement, which blood-soaked Sri Lanka may recall and go for again.
Close