The US and India are stepping up tech collaborations
Published on Jan 15, 2023 08:06 PM IST
The Indo-US Initiative on Critical and Emerging Technologies will trigger greater cooperation. And given the central role of nodal organisations, it can lead to improved technology diplomacy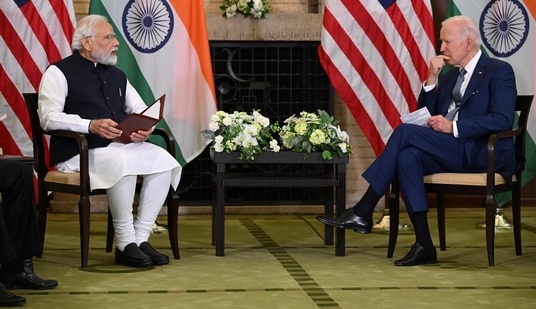 In May 2022, Prime Minister (PM) Narendra Modi and the United States (US) President Joe Biden formally launched an India-United States Initiative on Critical and Emerging Technologies (iCET). The initiative is led by the National Security Council Secretariat (NSCS) in India and the National Security Council (NSC) in the US. That NSCS and NSC have been appointed as the nodal organisations to coordinate this effort is noteworthy.
This is a "leader-level agreement", according to Tarun Chabra – the senior director for technology and national security at NSC. Given that technology issues "cut across so many agencies, departments, and ministries," Chabra makes clear, there is a "critical role for coordination." The iCET is not meant to reinvent the wheel on technology cooperation between the US and India. It is designed as a "catalyst to activate, accelerate, and rejuvenate many ongoing dialogues" between the two countries.
For India, given the lead role of the NSCS, it is a seemingly new and much-needed approach to Statecraft. iCET is also an opportunity to actively learn from the lessons of an ongoing process of technology diplomacy to be deployed to other inter-State relationships.
Undoubtedly, iCET will succeed in one way or another. The depth of success, however, will be determined by the extent to which leaders on both sides can ring-fence cooperation on crucial critical technologies. There is nothing yet in the public domain on iCET's priority areas. This may become clearer following a meeting between the principals on both sides. Consultations with industry leaders, government representatives, technologists, venture capitalists and entrepreneurs suggest that at least five areas need immediate attention. They could serve as the core of the iCET framework. These include further developing translational research partnerships more generally and quantum communications more specifically, striking deals to build a semiconductor ecosystem in India, doing more to connect start-ups and patient capital that can be encouraged to focus on the military needs of both countries, and finding ways to cooperate and untie the administrative hurdles for deeper commercial space ventures. In each of these domains, the role of the private sector is critical.
For India, iCET should be as much about deeper technology cooperation and its economic result as it is about deepening expertise within the bureaucracy. It is a process through which India can create a class of savvy administrators who ought to serve as lightning rods and educators across different parts of government. To be sure, there is an urgent need for tech negotiators in government.
The point is not to overemphasise what one initiative, iCET in this case, can do for learning and institutional reform. Rather it is to highlight the urgent need for change, inclusivity, and innovation in technology diplomacy in India. There is a need for government officers in any service with technology expertise to be marked out for complex negotiations. Those in the private sector need to be brought into negotiating teams, these include lawyers, technology entrepreneurs and fund managers who understand deals better than most. Equally, diplomats need to work inside national missions focused on emerging technologies.
The Indian Semiconductor Mission ought to have a dedicated nodal officer from the ministry of external affairs (MEA) based at least in Seoul, Tokyo, California, Washington DC and Taipei. Building a semiconductor ecosystem in India will require India's diplomats to make a geopolitical case in the US or Japan as it will for a technologist to make a market case. Building India's quantum capabilities will require India's officers in North America, Europe and Asia to work in tandem with counterparts in India to forge quick-turnaround alliances between universities and research laboratories.
India is no stranger to such administrative innovations. India Stack was built by a group of remarkable individuals from the private sector, government, officers from India's central bank and others working in mission mode. They more than delivered. Stickers of the barcode that give transactional meaning to India's Unified Payments Interface (UPI) can be found in small towns and villages.
The time has come to fuse the logic of such interdisciplinary approaches to technology diplomacy across borders. iCET, Quad, the European Union-India Trade and Technology Council (TTC) launched in April 2022, and many other such arrangements will require mavericks within the Indian system. It will require diplomats, officers from other services, engineers and chip-makers working in tandem.
Just like India Stack was born out of a new institutional structure within the government, technology diplomacy needs a dedicated administrative location. A lower-cost method would be to further empower the office of the Principal Scientific Adviser to the Government of India. A longer-term effort could be to establish an Office of the National Technology Coordinator. Either way, there is a need for administrative innovations to make the best of this moment in the geopolitics of technology.
Rudra Chaudhuri is director, Carnegie India
The views expressed are personal
This Republic Day, unlock premium articles at 74% discount
Enjoy Unlimited Digital Access with HT Premium
Topics