Mo Farah seals epic 10,000m win at IAAF World Athletics Championships
Reuters, London |
Reuters
Aug 05, 2017 11:42 AM IST
Mo Farah, despite being clipped twice from behind in the final lap, was able to unleash one more trademark burst to speed away from Uganda's Joshua Cheptegei and Kenya's Paul Tanui
Mo Farah launched the World Athletics Championships in scintillating fashion on Friday with another consummate 10,000 metres triumph that further embellished his claim to being the greatest distance racer in the sport's history.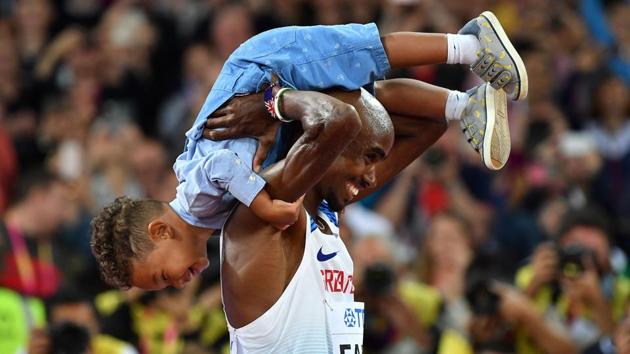 With 55,000 of his home fans roaring their support at the London Stadium, the 34-year-old Briton sprinted away with his 10th consecutive gold medal in a global track final, a dazzling sequence that ranks among the greatest feats in sport.
Farah survived being clipped twice from behind in the final lap, nearly tripping over and being forced to take a step off the track, and he ended with cuts and bruises to his "bad legs" that needed treatment.
Yet still he was able to unleash one more trademark burst down the home straight to speed away from Uganda's Joshua Cheptegei and Kenya's Paul Tanui.
The Briton clocked 26 minutes 49.51 seconds, the world's fastest time in 2017, in what proved perhaps the hardest-earned of all his magnificent triumphs as he protected his six-year unbeaten streak in major championships.
Silver medallist Cheptegei, just 20, clocked a lifetime best 26:49.94, chasing Farah all the way to the line, and Tanui 26:50.60.
Yet, five years to the very night when he won the 25-lap title at his home Olympics on "Super Saturday" in the same London Stadium, Farah had still not lost that invincible aura, clocking a searing 55.63 seconds for the last lap in spite of his stumbles.
It was the perfect way for him to begin his final championship as a track runner before he turns his attentions to the roads as a marathon man.
"What a way to end my career in London. It's special," Farah said, after hugging his children on the track.
"It was one of the toughest races of my life. With one lap to go I nearly get tripped, twice, that was hard. But I just had to be mentally stronger and think I didn't work this hard for nothing."
After an epic test in which the powerful Kenyan and Ugandan athletes combined with mid-race bursts to test Farah's resolve more fiercely than ever before, the Briton had to show remarkable composure on the final lap.
Twice as he led straight after the bell while still closely pursued by four hunters, Farah was clipped. The first time, his heel was caught by Tanui and on the second bend, the same Kenyan brushed his arm, sending Farah off balance so that he took one step into the infield.
BACK STRAIGHT
Yet despite momentarily losing his rhythm, the champion regrouped to take control on the back straight and he scorched off the final bend to forge clear and take his third successive world 10,000m title by a couple of metres.
It was the fastest he had run in any of his five global 10,000m victories by more than 11 seconds.
Still, though, he has only done half the job with the 5,000 metres to come next week and the prospect of completing a fifth straight 5,000/10,000 distance double in global championships.
Whether the battering he took will affect his hopes remains to be seen but the race certainly took a toll, as he reckoned the second incident involving Tanui with about 300 metres left had hurt him.
"I've got such long strides that I got caught and at that point I was just trying to stand up and think 'I can't go down, I can't go down'," he said.
HOME TRIUMPH
The 16th edition of the Championships could not have been set up more ideally for Britain to celebrate a home triumph in the first medal event and Farah, as ever, did not disappoint his legion of fans.
After he crossed the line, he swore that the noise in the stadium matched the incredible din of his 2012 tours de force when he won the 10,000m and 5,000m here.
Down the years, his main opponents from Kenya have tried in vain to upset Farah's equilibrium, sometimes working in teams and varying their pace and tactics but the master racer always has an answer in the sprint denouement.
A couple of blistering 61-second laps were thrown in to try to shake him but Farah's composure never wavered as he moved up the field to join the leaders and gestured to the crowd to turn up the volume.
"I just wanted to play with the guys' heads," he said.
He will have the chance to play with their heads on the track one more time in the 5,000 metres, the heats of which are on Wednesday.
"I did actually hurt my leg but I'm going to see the doctor now and take care of it - a few stitches, maybe," Farah said with a smile which suggested he is not about to have his incredible sequence ended in his final championship track race.