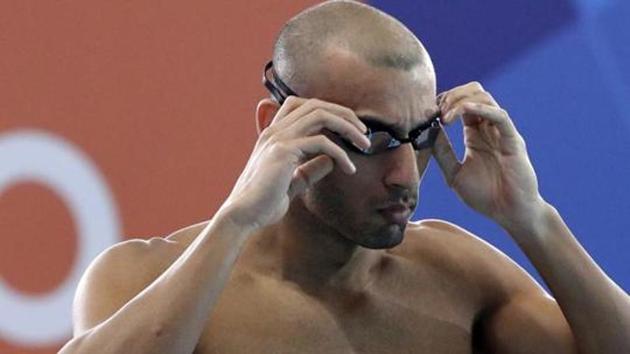 Three elite swimmers get permission to train in Dubai, Srihari Nataraj elated
India's swimming sensation Nataraj looks forward to get back to pool after longest break.
New Delhi | By Avishek Roy
UPDATED ON AUG 15, 2020 12:42 PM IST
A three-member elite swimming team has been cleared to travel to Dubai for training. This is the first national camp the government has sanctioned outside the country, since swimming pools are still not allowed to be used in India as per the Ministry of Home Affairs pandemic protocols. The three swimmers are Virdhawal Khade (50m freestyle), Srihari Nataraj (100m backstroke) and Kushagra Rawat (400m freestyle) who have achieved the 'B qualification mark for the Tokyo Olympics. They will be accompanied by coach AC Jairaj and will train at Dubai's Aqua Nation Swimming Academy.
"The camp has been approved for two months at a cost of around 35 lakh," Sports Authority of India said in a statement on Saturday
"This decision was taken in lieu of the current prevailing situation as swimming pools in India are not yet accessible as a safety measure due to the COVID-19 pandemic. The pandemic had halted the training of India's swimmers since March 2020. The training in Dubai will allow athletes to practice and improve their timing to Olympic A Qualification mark," the statement added.
Nataraj, who has matched Olympics B qualification mark (55.47s) in 100m backstroke, welcomed the move. "I thank SAI and Swimming Federation of India for their support and approval. I am glad that this happened. I just hope the youngsters and other swimmers who were initially in the (probables) list also get a chance to get back to the pool," he said.
"Before the lockdown I was looking at a long term training plan at either Australia, US or Canada at any club. I checked my friend in Australia about the situation now. They have very strict rules in place. Nobody is currently allowed to switch clubs there, so they are not expecting anyone. Dubai is the option for me now since we have got the permission to train and our national coach is there," said Nataraj
Nataraj said it will take some time to get back into shape. "I have never been out of the pool for so long. I don't know how it is going to affect me once I get into the pool. But I should get back to shape in a month and a half. We don't know when the tournament will start but need to get three four months before we can compete," he said.
Six swimmers have achieved the B qualification mark for the Tokyo Olympics. Sajan Prakash, Aryan Makhija and Advait Page have been training abroad. Prakash is training in Thailand while Makhija and Page are in the US. informed Swimming Federation of India secretary general Monal Choksi.
"The other three swimmers were looking to get back to the pool. It's an extremely proactive decision by the ministry and we appreciate that because the pools are still not open here," said Choksi.
He said the federation had sent a bigger probables list for the camp in Dubai. "We have been in talks with SAI and I am happy that they have agreed to send a small group to Dubai. We would have wished it had been a bigger group and included the other hopefuls also which we had proposed so that they can also get back to training. Nevertheless, it is a great start for these boys to get back to water. We will continue to work with SAI," said Choksi.
"The logistics are yet to be worked out. We will start their visa and ticketing process as early as possible. We will try and get the group together by August 25," he added.
It will help that India's former national coach Pradeep Kumar is coach at the Dubai academy. The team will stay in a residential accommodation closer to the pool and will have a transport of their own. The swimmers will have to take COVID test and submit a negative result 96 hours before they land in Dubai, as per the UAE government protocol.
"Pradeep is familiar with the swimmers. I have been in touch with the authorities. The distancing norms are strictly followed there. Competitive training is already on in Dubai," said Choksi.
"Top swimming nations like the US and Australia have already opened their training centres," said renowned coach Nihar Ameen, who is coach at the swimming academy at Prakash Padukone Centre of Excellence in Bengaluru.
"It is a great initiative by the sports ministry but we also need to presume training for the rest of our swimmers in India as soon as possible. Swimmers are safely training worldwide. We have 10,000 swimmers here who are getting here to get into the pool to train," he added.
Close