Sardar Singh's Khel Ratna nomination raises big question on eligibility
Updated on Aug 05, 2017 09:41 AM IST
Sardar Singh led the country to gold at the 2014 Asian Games in Incheon against arch-rivals Pakistan, which gave India automatic entry to the Rio Olympics. While there have been several feathers in Sardar's cap, there's a blemish too which is why his recommendation for the Khel Ratna could be hotly debated.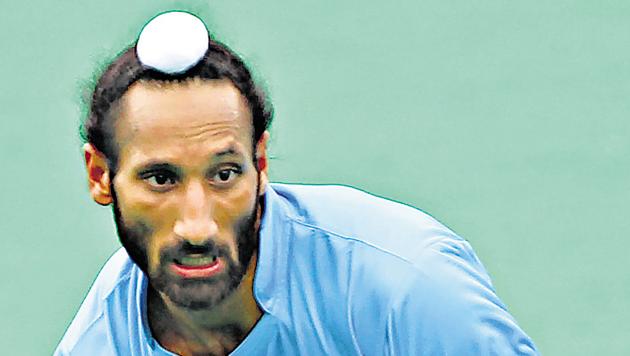 Hindustan Times, New Delhi |
Ajai Masand
Sardar Singh being recommended for the country's most prestigious award for sporting achievement --- the Rajiv Gandhi Khel Ratna --- could be the perfect birthday gift for one of India's best hockey players of this generation.
Sardar, who turned 31 on July 15, led the country to gold at the 2014 Asian Games in Incheon against arch-rivals Pakistan, which gave India automatic entry to the Rio Olympics. While there have been several other feathers in Sardar's cap in a career spanning over a decade, there's a blemish too, which is why the player's recommendation for the Khel Ratna could be hotly debated.
Early last year, a British woman had filed an assault case against Sardar Singh with Ludhiana police. The Indian-origin woman --- a former U-19 England hockey player --- alleged she had been in a relationship with the India skipper for some time and that during the period Sardar had tortured her "mentally, emotionally and physically," even pushing her to undergo abortion.
(Read | Sardar Singh, battle-hardened veteran, keeps on fighting with Khel Ratna)
On Friday, Hockey India, Indian Olympic Association and sports ministry officials were understandably guarded, not responding to repeated requests from Hindustan Times for comments on why his name was recommended.
Charges denied
The woman also alleged that the two got engaged in 2014 after their families consented, but Sardar then refused to marry her. However, the former India skipper rubbished the charges that they were ever engaged.
Even while India were celebrating their massive win over Pakistan in the Hockey World League Semi-Final in London in June this year, Sardar was called for questioning by the UK police in connection with the case. Hockey India and the team management termed the UK police's move uncalled for and international hockey federation (FIH) president Narinder Batra, "in his personal capacity", flayed the action.
(Read | Mo Farah seals epic 10,000m win at IAAF World Athletics Championships)
It is in this backdrop that Sardar's recommendation for the Khel Ratna seems misplaced. Agreed, he has not been found guilty or convicted, but what if at a later date, he does find himself in an awkward situation?
Conditions for award
Not just Sardar, Hockey India too might not be able to stop the government from taking away the top honour that is likely to be bestowed.
The Athletics Federation of India (AFI) suffered the ignominy of their recommendation for Arjuna Award to triple jumper Renjith Maheshwary being turned down two days before the ceremony in 2014 after Hindustan Times highlighted he had been found guilty of a doping offence and hence deemed ineligible.
(Read | Prakash Nanjappa sets new targets ahead of 2020 Tokyo Olympics)
Rules clear
Rule No 5.9 of the Khel Ratna nomination states: "The nominating authorities are required to certify in the form itself that the nominees are clear from vigilance/disciplinary angles and are not involved in acts of criminal and moral turpitude nature.
"In case of sportspersons employed with Central Government/ State Governments/PSUs or in private organisations, nominating authorities should obtain a requisite report from the concerned employers before certifying that the sportsperson being nominated is clear from vigilance/disciplinary angle and is not involved in any act of criminal or moral turpitude nature. While seeking report from the employer, details of charge-sheet/disciplinary action taken/pending, if any, should also be obtained. Copy of the report/certificate obtained from the employer of the sportsperson should be enclosed with the application of the sportsperson being nominated.
(Read | Why Indian women's cricket captain Mithali Raj deserves a Khel Ratna)
Rule 5.10, says: "Copies of the nominations received from organisations other than the National Sports Federations (NSFs) will be sent to the concerned NSF for verification of the details and the achievements and for checking if the nominated sportsperson has ever been warned/penalised for any unfair practice like age fraud/sexual harassment, doping etc."
There is a serious charge against Sardar, and the world knows it. Sardar was stripped of his captaincy before the Rio Olympics and many attributed it to the torrid time the long-serving captain was going through.
Mithali disappointment
Perhaps the sports administrators could also look at the achievements of Mithali Raj, the long-serving cricketer who captained the team to the women's World Cup final and achieved a personal landmark, becoming the highest run-getter in ODIs. Wrestler Sakshi Malik, shuttler PV Sindhu and gymnast Dipa Karmakar were conferred the Khel Ratna days after returning from Rio even though the nomination of shooter Jitu Rai had already been announced. Why can't an exception be made for Mithali?