Anshu Malik takes home silver after losing final to Maroulis by 'fall'
Oct 07, 2021 10:56 PM IST
Coming into the match after becoming India's first-ever woman finalist at the World Championship, the 19-year old began in an aggressive fashion with positive intent. She led 1-0 at the breather but the bout changed in dramatic fashion in the second.
Anshu Malik had vowed it was "now-or-never" ahead of her historic 57kg final at the World Wrestling Championships on Thursday, and it didn't go as per her wish in Oslo. She put her best foot forward, but had to be satisfied with the first ever silver medal by an Indian woman after losing to USA's Helen Louise Maroulis, an accomplished rival and medallist in the last two Olympics.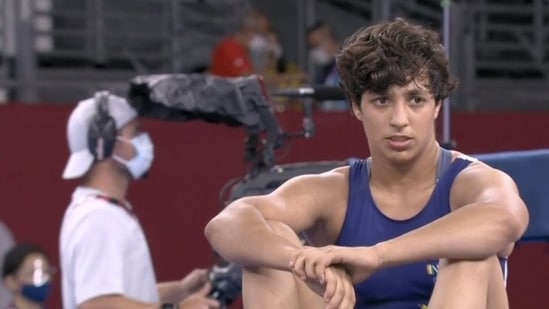 Despite her defeat by a fall while trailing 1-4, Anshu, gold-medalist at the Asian Wrestling Championship at Almaty this year, can be proud to return as the first Indian woman to go beyond the bronze barrier at the World Championships. However, she could not emulate Sushil Kumar, whose 2010 triumph makes him the only Indian to win a gold medal in the championships.
Having eight international medals under her belt in a short career of six years, the 20-year-old from Haryana's Jind controlled Maroulis, the 2016 Rio 53kg champion and 2020 Tokyo 57kg bronze medallist, for a while and managed a 1-0 lead at the break.
In fact, neither Anshu nor her opponent tried to be aggressive in the beginning. Maroulis though did try to come up with a leg hold after one-and-a-half minutes.
But in the second period Maroulis, looking for her third world title, swung back quickly and pinned Anshu for four quick points in the blink of an eye, leaving the Indian almost crying in pain. Anshu lay there for almost two minutes and couldn't hold her right hand properly. She could barely move her hand even when the referee raised Maroulis's hand as winner.
The main focus was on Anshu. A trainee of SAI national centre of excellence in Lucknow since 2016, Anshu's injury in the right hand made all the difference as she was unable to resist when Maroulis held her right shoulder. She required medical assistance at the end of the bout.
Before Anshu's silver, India's five medals in the women's section were bronze--Alka Tomar (2006), Geeta and Babita Phogat (both 2012), Pooja Dhanda (2018) and Vinesh Phogat (2019).
Her experience of winning against world champion Linda Morais, European and U23 world champion Grace Bullen, Veronika Chumikova and Evelina Nikolova in the past could have made a difference, but the experienced Maroulis finished the bout in style.
Overall, Anshu became the sixth Indian to fight for gold at the world championships. Sushil Kumar won gold while Bishambar Singh (1967), Amit Dahiya (2013), Bajrang Punia (2018) and Deepak Punia (2019) had to settle for silver.
Anshu's loss left her father Dharmvir Malik disappointed but proud. "Dard honey ke baad bhee mahari chori ne kaamal kar diya ji aur silver jeeta (despite being in pain my daughter did great and won a silver medal)," he said.
"We all were expecting her to win gold as it's a long standing dream of mine, but no worries. It's just a beginning for her and I am proud of her effort," he said. "I couldn't sleep last night and woke up early today as the excitement didn't allow me to sleep properly. I wasn't alone facing this problem in the family, but everyone at home was anxious before the bout.
"It's really great on her part as she didn't care about her pain and kept fighting hard ever since she came back home after her loss at the Tokyo Olympics. I believe if she was not in pain, she could have won gold today. Besides doing strenuous training at home, Anshu kept equal focus on her studies and before going to Norway, appeared in her final year examination also.
"She had offers for jobs from government organisation as soon as she came back from Tokyo, but she chose to complete her graduation first as once she is a graduate, she will be getting a reputed job."
Her coach Jagdish, who has been training Anshu since 2014 at the Chaudhary Bharat Singh Memorial Sports School, sounded satisfied with her performance in the final. "Manne to pata tha ki mahari cheli kuch bada karegi (I knew that my trainee would do something big). It's big that she won a silver medal as it never happened before in India."
In her 17 appearances at the international events at all levels, Anshu has almost always competed for a medal, missing out on a podium finish only thrice. At the 2020 Asian Championships, she lost in the semifinal against Japan's Risako Kawai 0-10 but won bronze eventually.
BRONZE FOR SARITA
India finished the day with another medal as Sarita Mor clinched bronze medal in women's 59kg, defeating Sweden's Sara Lindborg 8-2 in the play-off.
Sarita, 26, dominated the proceedings from the start, taking down her rival smartly and raced to a 6-0 lead at the end of the first period. With the odds firmly stacked against her, Lindborg tried her best to force her way back into the contest, but the Indian maintained her calm to ensure victory.
Sarita had on Wednesday defeated Canada's Linda Morais and Germany's Sandra Paruszewski before losing to Bulgarian Bilyana Dudova in the semi-final to go into the bronze playoff.
The 2020 Asian champion Divya Kakran lost her repechage bout to Enkh Amar Davaanasan of Mongolia 2-6. Other Indians to lose early were Harpreet Singh, Sajan and Vikas.