U-19 World Cup-winning skipper Prithvi Shaw on his dream date: It would be with my cricket kit!
Updated on Mar 01, 2018 11:25 AM IST
At 18, Prithvi Shaw's life is all about cricket. He led India's U-19 World Cup team to a win in February, and even when he is at the gaming console, the game he plays is still cricket. But his real hero is someone off the field — his father.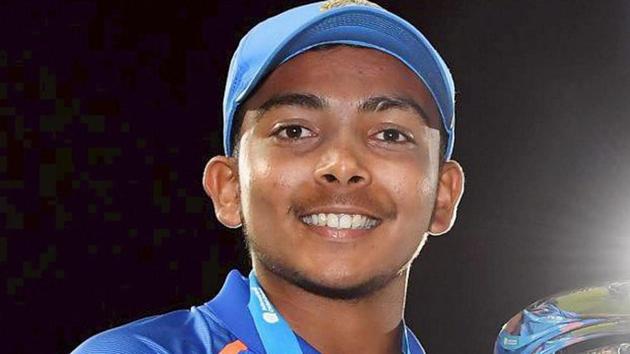 No dates, no nightclubs, a little bit of music, and the occasional movie. Which 18-year-old has a personal life like that? Well, that would be Prithvi Shaw, whose top three leisure activities are: cricket, cricket, and cricket.
Prithvi led the Indian U-19 squad to a World Cup win in February, and has joined the Indian Premier League now, as part of the Delhi Daredevils team. In his own words, "nothing must take the focus away from the game, come what may".
Prithvi tells us, "I usually don't get much free time. Cricket keeps me busy and I like it that way. But when I'm not [at practice or at a match], it's the PS4 that I enjoy." His PlayStation time is also devoted to cricket-based video games.
Music is a higher priority than movies. Prithvi says, "I like Arijit Singh and often listen to his tracks.I don't get to watch a lot of films." While he names Deepika Padukone as his favourite female star, among male heroes, he picks ... strangely, none from the present generation of leading men. "Govinda is my favourite actor — his comedy and dance is unique," says the right-handed batsman, though he admits, with a little laugh, that dancing isn't his own strong point. Asked if he enjoys it, Prithvi says, "I do, but I'm not a good dancer."
Interestingly, the young cricketer had Instagrammed a hilarious dubsmash from Hera Pheri (2000) sometime back. He shares that there were several failed attempts before the final video happened.
Being in such a popular sport, who'd be Prithvi's hero? From what the player tells us, it's someone off the field — it's his father, who has stood by him all the way.
Talking about spending time with his father, Prithvi, who lost his mother when he was three, says, "Dad played a very important role in my life. I always wanted to play cricket and my dream was his, too." The family is from Thane, a suburban area near Mumbai, and "dad used to travel with me everywhere I went [in Maharashtra] to play the game. In fact, he still does."
Prithvi speaks of the discipline his father instilled in him and how they've been friends: "He used to encourage me to practise for hours every day. He has been a pillar of strength throughout. I feel blessed to be his child. These days, we both are usually caught up in our work, but whatever little time we get with each other, we talk, eat out, and have fun."
The culmination of all that the father-son worked on came at the ICC Under-19 World Cup, where India beat Australia. "It was such a proud moment for us [when we lifted the trophy]. As a captain, I was feeling proud of each and every player in our team and even our supporting staff. It's impossible for me to express my feelings," says Prithvi, who made his first class cricket debut in 2017 and his international debut this year.
So has life changed? "Not really. I'm playing my game, practising, going to the gym, etc. I feel mature enough to not let success go to my head. The only thing that has changed, I guess, is [the level of] expectations from me, but I take that as a challenge. Cricket is a funny game, and it can take you anywhere — it might take you down, or lift you up. You have to just keep going," he says, adding that he idolises Sachin Tendulkar and the tips he has got from the latter helped a lot.
Prithvi's fan following is growing every day. And he is hopeful that he'd inspire up and coming cricketers. His advice: "Work hard on your game, fitness and stay focused. Remember, winning or losing is a part of life. Parents should also not put pressure on their children, and let them live their dreams. I would not have reached here without my father."
Concluding the interview on a lighter note, we ask with whom would he go on a dream date? After a brief pause, Prithvi says, "It would be with my cricket kit!"
Interact with Shreya Mukherjee at Twitter/@Shreya_MJ
ott:10:ht-entertainment_listing-desktop
Close Story
Personalise your news feed. Follow trending topics