Taliban delegation meets Chinese foreign minister Wang Yi
Jul 28, 2021 12:13 PM IST
This is the first time a senior Taliban leader has visited China since the group launched a massive offensive to capture territory across Afghanistan, coinciding with the rapid drawdown of US and NATO forces
A Taliban delegation led by Mullah Abdul Ghani Baradar held talks in China with foreign minister Wang Yi on Wednesday against the backdrop of growing concerns in Beijing over the activities of the Eastern Turkistan Islamic Movement (ETIM) that seeks to establish a Uyghur state.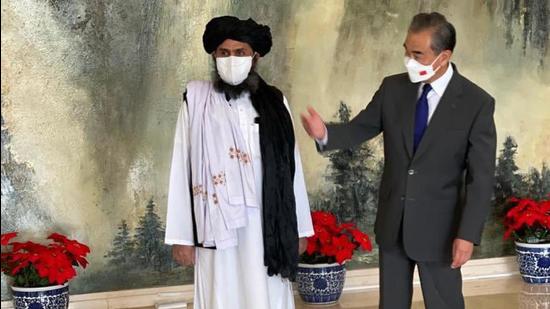 There was no word on the meeting from the Chinese side or the Taliban. Several images of Wang with the Taliban delegation, which included spokesman Suhail Shaheen, were posted on social media.
Stay tuned with breaking news on HT Channel on Facebook.
Join Now
Baradar, who heads the Taliban's political office in Qatar and has been the lead negotiator for talks with the US, met Wang in the northern city of Tianjin, the South China Morning Post reported citing sources familiar with the arrangements.
This is the first time a senior Taliban leader has visited China since the group launched a massive offensive to capture territory across Afghanistan, coinciding with the rapid drawdown of US and NATO forces. China has hosted a Taliban delegation in 2019 that met Deng Xijun, then the special envoy for Afghanistan.
Also Read | Pak's TTP supports Taliban as 6,000 terrorists still in Afghanistan: UN report
Chinese officials had in the past participated in talks with the Taliban along with representatives from Afghanistan, the US and Pakistan but these had not resulted in any forward movement in efforts to find a political settlement.
At a meeting with his Afghan and Pakistani counterparts in June, Wang vowed to "bring the Taliban back into the political mainstream" and offered to host intra-Afghan peace talks.
At a meeting between Wang and his Pakistani counterpart Shah Mahmood Qureshi in China on July 24, the two sides agreed to take joint actions to tackle the "spillover effect" from the deteriorating security situation in Afghanistan.
China and Pakistan are facing the "direct effect" of the worsening situation in Afghanistan and both countries will pursue the "hope for peace in an attempt to prevent a civil war in Afghanistan and mediate for negotiations between the Afghans", Wang was quoted as saying by China's state media.
The two countries will "jointly combat terrorism, push all major forces in Afghanistan to draw a clear line with terrorism, resolutely crack down on terrorist forces such as the East Turkistan Islamic Movement (ETIM), and prevent Afghanistan from falling again into being a hotbed for terrorism", Wang added.
According to a new UN report, ETIM has several hundred fighters in Afghanistan, primarily in Badakhshan and neighbouring provinces. ETIM wants to establish a Uyghur state in Xinjiang and facilitates the movement of fighters from Afghanistan to China, the UN report said.
ETIM reportedly has relationships with al-Qaeda, Islamic State-Khorasan and Jamaat Ansarullah and Hajji Furqan, the group's deputy commander, leads as many as 1,000 foreign terrorists, including 400 in Badakhshan province.
ETIM continues to be China's main concern in Afghanistan and the focus of its efforts to ensure peace and stability in the war-torn country.