'Afghan decision a result of political consideration, not an intelligence failure': Ex-CIA official
Aug 19, 2021 01:27 PM IST
Douglas London, who retired from the CIA in 2019 after 34 years, said that the intelligence community had presented various scenarios if US troops withdraw early from Afghanistan. But former president Trump still took the decision of fast-track the withdrawal and it was endorsed by Joe Biden.
United States President Joe Biden has been at the receiving end for not stopping the withdrawal of American forces from Afghanistan, which is now under the control of the Taliban. Biden has acknowledged that the Taliban takeover happened "much sooner than expected", but a damning account by a former US intelligence official of how warnings were ignored can spell further trouble for the Biden administration.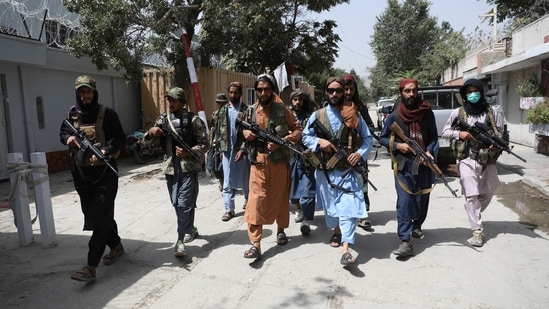 Douglas London, who worked as Central Intelligence Agency's (CIA) counterterrorism chief for South and Southwest Asia before retiring in 2019, has said that the agency warned about the outcome of early withdrawal of US forces from Afghanistan to former president Donald Trump years ago. Despite the warnings, Trump made the decision, which was ratified by his successor Joe Biden, London said in an article published in Just Security, a website on law, rights, and US national security.
Stay tuned with breaking news on HT Channel on Facebook.
Join Now
London rubbished the narrative that it was an intelligence failure, and said that the Afghanistan decision was taken due to "political and ideological considerations".
"It was a path to which Trump and Biden allowed themselves to be held captive owing to the "ending Forever Wars" slogan they both embraced," he said in the article.
Also Read: Haqqani network cadres control Kabul, Mullah Yaqoob in Kandahar
The ex-CIA official said that the US intelligence agencies had assesses the situation in Afghanistan according to various scenarios and conditions depending on multiple policy alternatives.
He further said that the federal government was warned by the intelligence community that Afghan politicians, warlords and miltary leaders who benefitted from America's sustained presence and money may lose confidence if US forces withdraw. "Switching sides for a better deal or to fight another day is a hallmark of Afghan history," London added.
Among the different scenarios presented to the US federal government were retaining 5,000 troops and most of the existing forward military and intelligence operating bases, to at least maintaining a number 2,500 troops and larger bases in greater Kabul, Bagram, Jalalabad and Khost, he said. That would have prevented Afghanistan's collapse for 1-2 years and still provide for a degree of continued US counterterrorism pressure, London added.
A "Kabul only" option was also presented with the retention of the sprawling US Bagram air base and other intelligence facilities, said London, adding that none of these scenarios were adopted which led to dissolution of government within days.
Afghanistan fell into turmoil after the Taliban seized power in the country by capturing province after province since launching their offensive in May. It ended with the fall of Kabul on Sunday.
The Taliban celebrated Afghanistan's Independence Day on Thursday by declaring it had beaten the United States.