Wrapped in plastic bag, Chinese woman eats a banana on train. Why? Covid rules
Updated on Nov 06, 2022 05:33 PM IST
Covid In China: An ingenious woman in China found a way to circumvent rules that limit eating on trains in the country.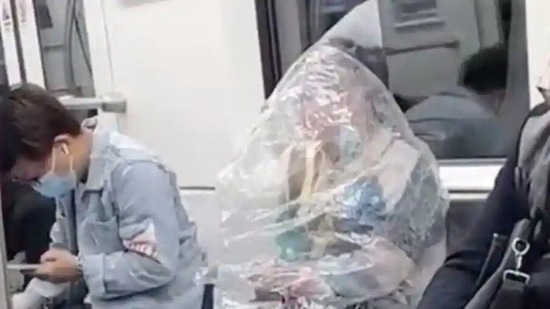 Since the start of the pandemic, China has implemented a strict zero-Covid policy which has disrupted the lives of residents owing to snap lockdowns, mass testing and stringent rules. Even though the world has moved to living-with-Covid, China is still following policies which have impacted the country's economy and supply chains to restrict the spread of the virus.
Read more: China to ban alcohol? Xi Jinping could for government officials: Report
An ingenious woman in China, though, found a way to circumvent rules that limit eating on trains in the country.
A woman was recently caught on camera travelling in a subway train in China's Hubei province wrapped in a big plastic bag before eating a banana she had brought with her.
Read more: Why searching 'Beijing' in China after anti-Xi Jinping protest isn't possible
The video of the woman was recorded by a fellow passenger, local media reported.
Wang- the fellow passenger- said, "There are sporadic coronavirus outbreaks across Wuhan, but in my opinion, it is a bit extreme for this woman to protect herself like this."
Read more: Video: Workers flee China's Covid lockdown at world's biggest iPhone factory
"While it is not ideal to eat inside subway trains. She isolated herself from other people by wrapping herself in a plastic bag," he added.
The woman had to resort to eating the banana in a plastic bag as consuming food is prohibited on subway trains in China.
China has doubled down on its zero-Covid policy as president Xi Jinping praised the policy signaling that there will be no immediate change in it.
Topics