Noida online scam: First social network Ponzi scheme worth Rs 3700 crore busted
Feb 04, 2017 10:02 AM IST
India's first social network Ponzi scheme sets precedence for tech geeks to exploit the internet for darker web crimes. Experts said that it is easy to vanish if a scam is on the internet.
India's first social network-based ponzi scheme gets unravelled in Noida, a planned township on Eastern Delhi border.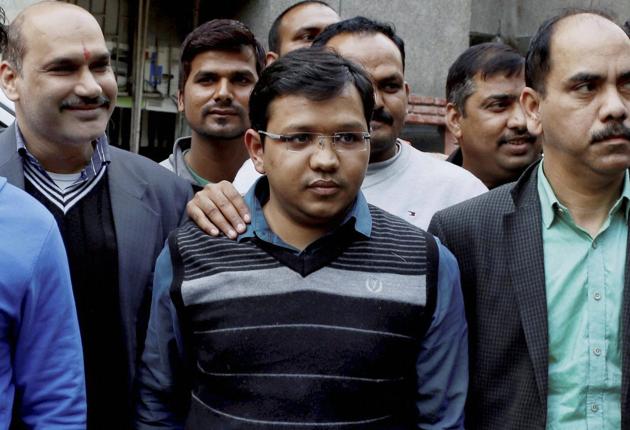 Not that ponzi schemes are not common -- Sahara, Saradha and Rose Valley made page one news in leading dailies -- but in this one, which lured people to hit Facebook and Twitter "likes" for a certain amount of money could have had much wider impact.
Compared to Saradha, where 1.74 million people lost more than Rs 20,000 crore; or Rose Valley, India's largest chit-fund scam worth Rs 60,000 crore, or Sahara that duped people for Rs 36,000 crore -- the Social Trade scam is just worth Rs 3,726 crore from six lakh people.
The company, run by a 26-years old engineering graduate, Anubhav Mittal, along with his sides Shridhar Prasad and Mahesh Dayal lured take up members of a certain amount, and for then ask them to like Facebook and Twitter links.
Buying social media likes is a common practice in the corporate world. Mittal scam was wrapped this popular practice. It would not have been a crime if it was just taking money from companies to buy "likes".
For experts, Social Trade throws up larger challenges. "You can reach to a large number of people in a very limited time, and online is so sophisticated that you can go untraceable... Online schemes are more dangerous," said Sanchit Vir Gogia, chief analyst and CEO at Greyhound Research.
But Mittal wanted quick money, and a lot of it.
To enroll, he would ask people to pay up Rs 5,750 (Social Trade offered other tariffs as well), and then a member would have to like pages -- for 125 likes every day, he would pay Rs 625, which would be credited to the member's account, explained special task force (STF) officials, who are handling the matter.
"This will be your daily income and will be accumulated monthly. If you add more people to the network, you will be moved up in the hierarchy, and you will get some commission on that," the STF official said.
Ponzi schemes usual peak when fraudsters make most of the prosperous times, by giving outsized returns on small investments. As long as the good times remain, the returns flows in -- usually funded by large amounts of membership money. Once the membership money stops coming in the Ponzi schemes go bust.
Between 2008 and 2009, about 160 Ponzi schemes worth $40 billion collapsed, globally.
People fall prey as Ponzi schemes promise very high returns for small amounts of deposit money. UK Sinha, chairman of SEBI, said "do not fall for schemes that assure unbelievably high returns" in a speech in July 2015. "There are many companies in India that have siphoned off thousands of crores of rupees of investors through such Ponzi schemes," he added.
As far as Social Trade is concerned, it has opened doors for a whole world of Ponzi schemes. Its difficult to track the social network. "This is online terrorism of sorts, there should be an active cells to track these digital issues... They abused the loopholes in the system... Online attacks are easier to mirror," Gogia said.
Mittal and his aides took cuts from the membership money. The STF calls the company completely fraudulent. "This is completely fraudulent because the subscription fees is the revenue, and they distribute that within the other subscribers. And the owners take a fat commission out of this. They make fake accounts and channelise the money back to themselves," the STF official said.