Punjab FM presents AAP govt's first budget, provision for 300 units of free power
Jun 27, 2022 12:56 PM IST
Punjab finance minister Harpal Singh Cheema on Monday presented a ₹1,55,859.78-crore budget and announced the outstanding debt would rise to ₹305361.44 crore in the 2022-23 financial year
Punjab finance minister Harpal Singh Cheema on Monday presented a ₹1,55,859.78-crore budget and announced that the state's outstanding debt would rise to ₹305361.44 crore in the 2022-23 financial year.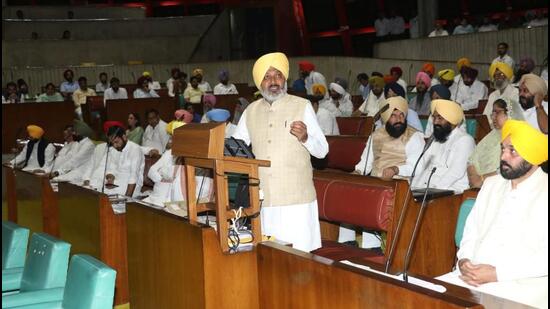 Presenting the first budget of the Bhagwant Mann-led Aam Aadmi Party government, Cheema said budgetary provisions have been made for providing 300 units of free electricity each month for every household in the state from July 1.
The finance minister proposed a budgetary allocation of ₹11,560 crore for the agriculture sector and ₹6,947 crore for free power to agriculture tubewells.
Drive against corruption
Cheema also said that the AAP government will set up a model of good governance. "Our government has zero-tolerance towards corruption. Our party's birth started from the anti-corruption movement," he said, adding the government is acting against those who indulge in corrupt practices. He made a mention of the action taken by the CM against his own health minister Vijay Singla. Twenty-eight corruption cases have been registered so far, he said.
Also read: Bhagwant Mann's big announcements for farmers, students in Punjab budget 2022
Chief minister field offices will be set up in each district. A tax intelligence unit will be set up to check revenue leakage.
The finance minister said that the janta budget (people's budget), which has been prepared after receiving 20,384 suggestions on the government portal and through e-mails, will focus on various areas, including health and education.
Cheema, who was reading out from the paperless budget, said, "Our focus in the first year will be threefold. To restore deteriorating fiscal health, deliver on the promises of good governance by ensuring effective use of public funds and concentrate on health and education."
Booster shot for health, education
The Punjab Sikhya Te Sehat Fund, a trust to assist capital asset creation in health and education sector, will be set up during the course of the year and the government will provide a token assistance initially as seed money to it during FY 2022-23.
The budget outlay for the health sector with an allocation of ₹4,731 crore is an increase of 23.80% over that of FY 2021-22, the minister said.
The AAP government proposes to establish mohalla/pind (village) clinics to decentralise public health services to the lowest level. This year, the government plans to set up 117 mohalla clinics for which an initial allocation of ₹77 crore has been proposed. Seventy-five of these mohalla clinics will be operational by Independence Day on August 15.
A sum of ₹1,033 crore has been allocated for medical education, which is an increase of 56.60% over FY 2021-22.
Sixteen new medical colleges will be set up in the state, making a total of 25 such colleges in Punjab over the next five years. The government will set up two super-specialty hospitals in Patiala and Faridkot in two years. Three more super specialty hospitals shall be opened by 2027. The Punjab Institute of Liver and Biliary Sciences will come up in Mohali.
The government proposes to establish an estate management unit (EMU) that shall exclusively look into the maintenance of basic sub-structure needs of hospitals/health facilities and remove glitches in a time-bound manner. The unit would initially be run by the state government and subsequently be handed over to a specialised agency.
To help road accident victims, the government proposed a scheme in Punjab on the pattern of the Farishtey scheme in New Delhi whereby anyone can take a road accident victim(s) and get them admitted to any hospital. The accident victims will be given free treatment and the cost would be borne by the government.
Fee concession for meritorious college students
₹100 crore has been allocated for the installation of the roof top solar panel system in government schools.
In order to encourage students of poor families, especially from the general category, studying in government colleges, the AAP government has decided to provide scholarship as concession in the fee, based on the marks obtained by the student. Cheema proposed an allocation of ₹30 crore for the purpose.
Two new schemes for budding and outstanding sportspersons were announced and ₹25 crore earmarked for this purpose.
The government proposes to set up a state-of-the-art stadium at Longowal in Sunam.
Balancing act between trade, agriculture
The government proposes to set up a special commission with only traders and businessmen as its members. This commission would collaborate with the government in decision-making and policy formulation. The basic idea is to form policies which people of this sector actually want, to help them in adding value and creating employment.
₹450 crore will be given as incentive to paddy growers who adopt non-conventional method of direct seeding rice, aimed at saving groundwater by at least 20%. The government proposes ₹200 crore for solutions to stubble burning.
To augment its covered capacity, new godowns would be set up by Markfed at 13 locations under the Nabard-assisted new project for the storage of central pool wheat stocks and ₹56 crore is proposed for Markfed for trouble-free moong procurement. The state guarantees ₹400 crore, enabling Markfed to raise loans for procurement.
The government proposed ₹1,170 crore for the cooperative sector, an increase of 35.67% compared to the last financial year. It pledged ₹688 crore to bail out the Punjab State Cooperative Agricultural Development Bank (PSCADB) and clear its liabilities.
₹7 crore has been allocated for individual quick freezing (IQF) technology for preserving seasonal fruits at Verka village in Amritsar.
An integrated hi-tech vegetable production-cum-technology dissemination centre will come up at Malsian, Jalandhar, with ₹11 crore proposed.
To develop the Kandi area from Chandigarh to Pathankot, a highway between the two cities along the Shivaliks is proposed to be developed.
Tech upgrade for law and order
Cyber-crime control rooms shall be set up in all districts with an outlay of ₹30 crore.
The state would be covered with CCTV network to check the crime and tap criminals. ₹5 crore is hereby proposed for the installation of CCTV cameras at Mohali and similarly CCTV cameras will be installed at police Mahila Mittar Kendras during FY 2022-23.
The construction of a modern district jail in Mohali on 17.5 acres has been identified at Kurara village and initially ₹10 crore is proposed during FY 2022-23.
"Exciting news! Hindustan Times is now on WhatsApp Channels
Subscribe today by clicking the link and stay updated with the latest news!"
Click here!