Bandra-Versova Sea Link work worries fishers about livelihood
Updated on Jan 21, 2023 12:49 AM IST
Akash Khapne, a fisherman from Aai Kadeshwari (an informal settlement), has taken up a housekeeping job at the MSRDC office in Bandra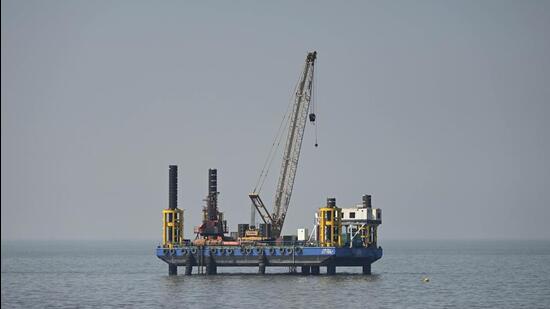 Akash Khapne, a fisherman from Aai Kadeshwari (an informal settlement), has taken up a housekeeping job at the MSRDC office in Bandra. This is not paying him much but he is happy that his income is guaranteed.
"I was able to earn around ₹900 a day doing fishing but there has been a sudden slump in the last two weeks. My family had been suggesting that I get an office job, and I joined MSRDC (Maharashtra State Road Development Corporation) on January 5. I don't earn as much as I used to but it ensures some income every month," the 21-year-old said.
Khapne is one of several fishermen living in the shadow of Bandra Fort who are alarmed by a jack-up barge engaged in drilling operations about 500 metres from the shore. The rig has been deployed by MSRDC for construction of the Bandra-Versova Sea Link (BVSL) project.
"Since the drilling work started around two weeks ago and tug boats began plying in the area, we have not been are not able to fish close to the shore. The noise and vibrations are driving the fish away. We don't know how we will manage over the next four months if the catch is so low," said Prem Soshte, an artisan fisherman and member of Kadeshwari Mandir Matsyavyavsaik Sahakari Sangathan, which represents about 48 small-sized boats that park at this jetty.
"We are hoping that some decision is taken soon on our compensation," he added.
Citing the example of the Bandra-Worli Sea Link, construction of which has allegedly depleted fish reserves, changed navigation routes, and made tidal action around Dadar, Mahim and Koliwada more intense, fishworkers operating between Bandra and Versova say they expect similar predicaments.
Officials, however, said they are making a concerted effort to assuage these worries.
Sunil Bhutana, MSRDC's chief engineer on the BVSL project, said, "There is no ban on fishing around the jack-up rig. A buoy has been put up to caution the fishers since drilling work is going on. We are in the middle of discussions with the fishing community regarding compensation and other concerns. We will resolve them soon."
Hindustan Times was the first to report on Jun 17 last year that the BVSL project is likely to impact around 1,600 fishers living and working in the project's 'zone of influence'. The largest denomination, around 864, reside in Khar Danda, while the remaining are spread across smaller settlements at Kadeshwari Mandir, Chimbai village, Carter Road, Juhu Koliwada, and Mora Gaon near Rizvi College.