Kurla, the new hotbed of measles outbreak
Jan 20, 2023 12:33 AM IST
The ward has 14 outbreaks and 73 cases as compared to M-East (Govandi) – which has five outbreaks and fifteen cases.
Mumbai: Three months after the measles outbreak in the city, L Ward (Kurla) surpassed M-East (Govandi) to have the highest number of outbreaks and cases, as per the Brihanmumbai Municipal Corporation (BMC) report. The ward has 14 outbreaks and 73 cases as compared to M-East – which has five outbreaks and fifteen cases.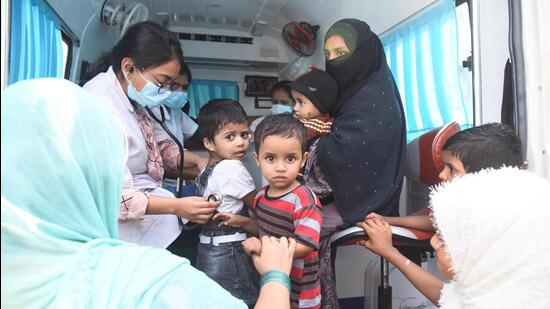 Dr Subhash Salunkhe, former director of the Directorate of Health Services for Maharashtra who heads the task force said they are assisting BMC in micro-planning in the ward. "While the figures of routine immunisation by the civic corporation are satisfactory, the number of children who have missed the doses is not. We have asked for more intense micro-planning for which we are assisting the health officer," he added.
Mumbai has seen one measles death this year and 17 since the outbreak in October 2022. The city has so far seen 601 laboratory-confirmed measles cases. "There will be sporadic cases but we have to stop the number of outbreaks by increasing the vaccination coverage," said Dr Salunkhe.
Measles, which is caused by a virus in the paramyxovirus family, is a highly contagious respiratory disease. An outbreak is a cluster of at least five cases from the same area, according to the World Health Organization (WHO).
"We have asked the corporation to improve the involvement of private practitioners to stop the measles outbreak and increase the vaccination coverage in the wards. Earlier, too they were involved but we have seen some gaps," said Dr Salunkhe.
The state task force, which has been reviewing the situation daily along with the state health minister, has asked for micro-planning involving the Indian Academy of Paediatricians and local leaders and emphasised improving the vaccination coverage.
Dr Mangala Gomare, executive health officer of BMC said, they are concentrating on intensifying the monitoring system on vaccination coverage. "Our vaccination coverage has improved in the last two months and we intend to keep the momentum till March. We will achieve 95% vaccination coverage by March," she said.
Meanwhile, since its start on December 1, the outbreak response immunisation (ORI) undertaken by the civic body immunised 62.83% (1,44,604) of the eligible children between 9 months to 5 years of age and 67.84% (3,394) of eligible children between 6 months and 9 months. BMC has also arranged mobile teams to vaccinate children at construction sites and nomadic sites. The drive was started on December 24 and 110 children from the construction sites and 174 children from nomadic sites were given measles vaccine doses.