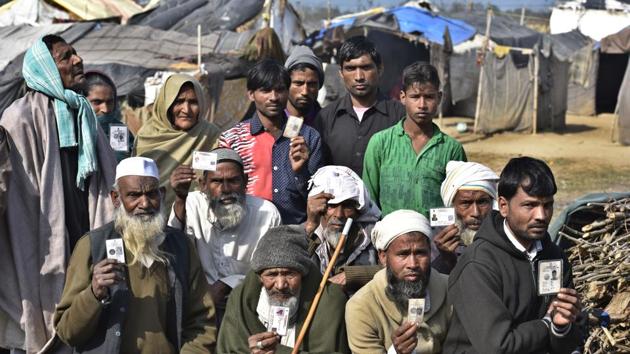 Uttar Pradesh's Muslim vote-bank: A myth or reality?
What is clear is that many are not happy in the way their problems have been addressed over the decades
By Shashi Shekhar
UPDATED ON FEB 13, 2017 12:57 AM IST
I wanted to begin with a discussion on the Darul Uloom but I wasn't given that opportunity. When we requested the office-bearers of the Islamic seminary permission to visit them in Deoband, we were told they won't meet anybody before the Uttar Pradesh elections. Why do institutions that are opinion-makers shy away from intellectual discussions?
Without getting into this debate, I decided to visit those people who stay in villages and towns, those who believe in religion, accept caste and when they cast the ballot, make the thrones of political leaders tremble. Our first stop was the rural belt of Uttar Pradesh's Muzaffarnagar and Shamli districts.
Read | We are with Thakur saheb, not BJP: Jewar Muslims
You may be curious about why we wanted to visit Deoband. Why did we head towards the villages and towns of western Uttar Pradesh? Let me tell you. Since my childhood, I've been hearing that there is a distinct Muslim "vote-bank". The question that came to my mind was: Why don't their living conditions improve then? When I put the same question to a few youngsters standing near a sugarcane field in a village near the town of Sisauli, they said only those who perceive them as vote-banks know what vote-banks were. But it is true that attempts are made to create a consensus on certain issues. It isn't that it happens just here. Even other communities have their panchayats.
A man with silver in his hair said we shouldn't just look at a particular religion. We have always been divided in the name of religion and caste. At times we have clashed with each other. The issues of communalism and caste are used to win elections although it should be limited to matters of social welfare.
Has there been any change seven decades after Independence? "Yes there has been a change," replied a man who was standing quietly till then. "I am a Dalit and I've been elected as the village chief. Today, I can sit as an equal with 'chaudharys', 'pandits' and other upper castes."
Photos | Muzaffarnagar riots: Three years on, no conviction in gang rape cases
"Why do riots still happen then?" my curiosity was piqued. In response, everybody blamed it on politics.
The conversation had taken a sentimental and predictable turn, so I moved on.
The next destination was Meerut. Here, at a gathering that included university professors and the Nayab Qazi (deputy judge of a Sharia court), along with other prominent members of the Muslim community, I repeated my question. Almost everybody agreed that at regular intervals certain noises were made that provoked certain narrow-minded people. Every caste and community has leaders, who have just one job: To make inflammatory remarks. Some of them have formed their own parties and others are office-bearers of large political parties. They keep on stoking the embers of communal hatred at regular intervals. These embers keep on simmering even after the fires have been doused out.
Read | BSP, BJP rework strategy after Samajwadi Party, Congress forge alliance
I saw an example of this in Firozabad. Here I was face-to-face with a heterogeneous audience from diverse socio-economic groups. One lady loudly proclaimed: "These people don't want to educate their children." To this a lady from "those people" retorted: "Which parent would not want their children to go to school? It is economic compulsions that lead to practices like child labour."
A suited-booted gentleman present at the gathering said he had the means, and so he educated his children. They cleared competitive exams and are occupying powerful posts today. The recommendations made by the Sachar Committee and other panels on the poor economic conditions of our community haven't been implemented till now, he said. The truth is that those who describe us as vote-banks are the ones who block our progress so that we can be caught in their tentacles forever.
Read | UP elections: A peek into the voters' mind
They were not wrong. According to the 2011 census, India's Muslim population stands at 172.2 million, or 14.2% of the population. According to the same estimate, 19.26% of Uttar Pradesh's population is Muslim and the community makes up 13.95% of Uttarakhand's population. The same people who reached the corridors of power riding on their votes have kept them bereft of even basic life amenities.
The debate took a new turn in Aligarh. An Aligarh Muslim University (AMU) professor said one should remember what happened in the Assam assembly elections. One party thought it would polarise us and the other wanted to use it to scare us and consolidate our votes. But that did not happen.
Later on, a group of Muslim youth contradicted this in Lucknow. According to them 70-80% Muslim voters cast their vote after they arrived at a common understanding.
Read | On the move: On UP bus, talks of 'samaj', expectations make a buzz
Jasim Ahmed, also from the AMU, made an incredible remark. He said that people with a distinct dressing sense and language had anointed themselves representatives of the Muslim community. They appear on television, meet politicians and are omnipresent. Even you are not immune to this syndrome, he said. How can you say this, I asked him. "If this isn't your thought process, then when why did you think of beginning your 'ideas expedition' from Deoband?" he asked.
When it was time to leave, everyone requested for a group picture. Before the camera could click, someone joked that the people in the frame were not dressed in the manner people expected them to. "When you return, nobody will believe you if you said you are standing with Muslims."
This made the entire group laugh loudly and the moment was captured for eternity.
Shashi Shekhar is editor in chief, Hindustan
letters@hindustantimes.com
Close