Dale Steyn: There are great players, and then there's AB de Villiers
Updated on May 30, 2018 02:40 PM IST
Dale Steyn, who made his South Africa debut with AB de Villiers in 2004, said had it not been for de Villiers, the Proteas wouldn't have risen to No. 1 ranking across formats.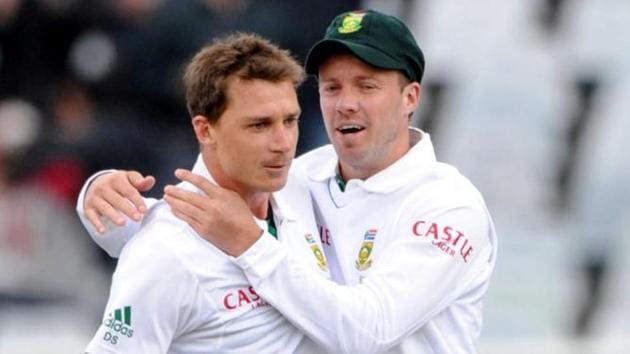 Ever since AB de Villiers announced his retirement, tributes have been pouring in from all quarters for the '360 degree' batsman. The latest on the list of de Villiers' admirer is his former teammate, Dale Steyn.
In ESPNCricinfo's Cricket Monthly, Steyn said that had it not been for de Villiers, South Africa wouldn't have risen to No. 1 ranking across formats. Hailing his prowess, Steyn revealed how the 34-year-old's excellence rubbed off on his teammates.
READ | Diminishing South Africa caps shows AB de Villiers was disinterested
"His excellence rubs off on other people. When you are in the company of greatness, there is only one thing to do: to raise your game. I actually sent him a message and said to him: I don't think I would be half as good as people think I am if it wasn't for him being in the team. Without him even knowing, he made more than half the players in our team excellent players," Steyn said.
"One of my highlights of being a Proteas player is that at one stage we were the No. 1 team across all formats. That was under Gary Kirsten as coach, but I can guarantee that team wouldn't have achieved such great heights without great players like AB. That was the ability of AB – to be able to raise everyone's game with incredible intensity. That is another unique skill he has.
READ | Eoin Morgan, England's ODI and T20 captain, expects quick return from finger injury
"You get guys that are good. Then you get guys that are excellent. And then you get AB de Villiers," he added.
Steyn and de Villiers had a bond predating their international career as both made their entry into first-class cricket together for Northerns. Fittingly, they made their Test debuts together in 2004 against England.
"We also made our first-class debuts together [for Northerns] in 2003 and not long after that we played our first Test together. We ended up with quite a lot of matches together."
READ | Star-studded Australia A Test, ODI squads named for India tour
"What not many people are aware of is that we actually played a little bit against other in our teens. AB was playing then for Northerns and I was playing for Limpopo in provincial school cricket. Then we were playing against each other in the Coca-Cola Cricket Week, which is when all the provincial schools come together and from which the junior school team for South Africa is picked. So from about the age of 11 we have played together.
"The thing about him was: you were drawn to him. I remember AB when he was 11. I can't remember many of the others. It wasn't because of his cricket that I remember AB. It was because of who he was: a charismatic child who grew up to become this amazing guy," Steyn said while talking about his personal association with the retired batsman.
READ | Election officer gets objections over DDCA proxy candidates, seeks replies
Regarded as one of the most innovative and attractive batsmen of modern generation, de Villiers holds a number of batting records including the fastest 50, 100 and 150 in the ODIs. Asked about his favourite de Villiers innings, Steyn said that he enjoyed ABD's fastest hundred off only 31 balls against the West Indies the most.
"The pink game [against West Indies] where he hit the fastest ODI hundred. I remember him urging Russell Domingo [then South Africa's coach] to send David Miller in because he felt Miller could clear the ropes. Russell said, "No, you go", to AB."
"He was reluctant, but eventually said "fine" and rushed out of the change room. There are a couple of stairs as you step out of the change room at the Wanderers. As he ran out, he almost saw his arse on the first step. It is not on TV. When he came out to the ground he looked cool and composed, but he had almost fallen flat on his face. And from ball one he just turned it on and it was chaos after that. So West Indies need to blame Russell Domingo and David Miller for that record," he said.
Personalise your news feed. Follow trending topics