Whose idea was it to tamper the ball? The many questions David Warner didn't answer
David Warner, who addressed the media on the ball-tampering row on Saturday, left too many questions unanswered and, thanks to Cricket Australia's handling of the event, there were a number of questions that remained unasked.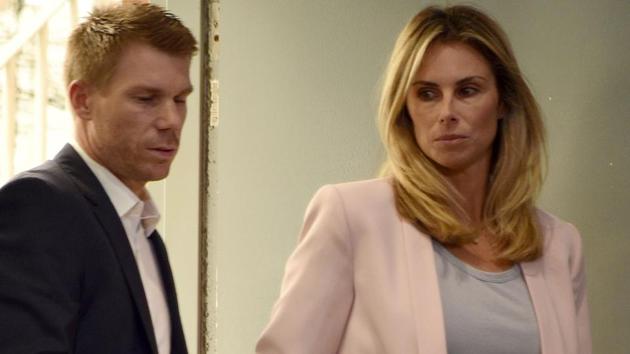 Updated on Mar 31, 2018 01:56 PM IST
New Delhi |
HT Correspondent
David Warner issued a tearful apology for his part in the ball-tampering scandal during the Newlands Test between South Africa and Australia last Saturday, but left a lot of questions unanswered as to his 'actual role' in the episode.
Warner, the former Australia vice-captain, returned home with his wife and kids just two days back after being handed a one-year ban by Cricket Australia (CA) for his involvement in the controversy. He has also been barred from holding a leadership position ever again.
READ | Tearful David Warner says he may not play for Australian cricket team again
Addressing the media for the first time since the incident, Warner repeatedly apologised but did not address questions about his involvement, the role of other teammates (in the scandal) or whether there'd been any previous attempts at ball-tampering.
"You're holding back on some of your answers," said one of the journalists. It was then a lot of questions were shot at Warner as he finished the news conference hastily and was leaving the venue.
READ | The Australia ball-tampering scandal: A timeline
"Whose idea was it? Who took the sandpaper out there? Who else was involved? Why did he do it? Has he tampered before?"
The questions were met with more tears and apologies but the 'real' answers never came.
But later, Warner tweeted -- acknowledging there were "lots" of unanswered questions and promised to answer all questions 'in the proper place and at the proper time'.
READ | Australian Cricketers' Association questions severity of ball-tampering bans
The fallout from the crisis has seen Warner been dumped by sponsors ASICS and LG, while Cricket Australia has lost its top sponsor, Magellan.
Along with Smith, Warner has also been barred from this year's Indian Premier League (IPL).
Smith and Warner were supposed to captain their respective franchises Rajasthan Royals (RR) and Sunrisers Hyderabad (SRH) in IPL 2018 but had stepped down in the wake of the scandal and CA's sanction paved the way for BCCI to ban the duo.
Close Story