Trump should now walk the talk on the H1-B visa issue
It makes little sense for his administration to be taking steps that affect Indian technology workers, who are hardly sneaking across the US borders, especially when members of his cabinet describe India as a key ally and push strategies such as the Indo-Pacific policy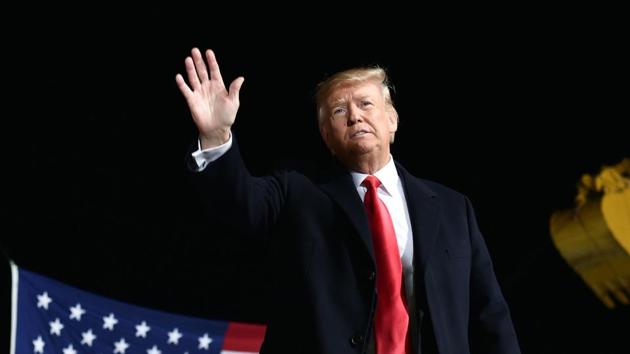 Updated on Oct 16, 2018 12:43 PM IST
After months of woes related to the increasing restrictiveness of the American visa regime, President Donald Trump provided a sliver of hope to India's technology professionals by saying that he wants a lot of people with merit to come to the United States. It is very important, Mr Trump said, to have people coming in on merit to help the United States. However, restrictions on the visa regime, part of Mr Trump's "America first" and "Buy American, Hire American" policies aimed at ensuring more jobs go to American citizens, have become an irritant in relations between New Delhi and Washington.
India has been hit hard by the Trump administration's changes to the H-1B visa regime that benefits thousands of technology workers. So much so that external affairs minister Sushma Swaraj took up the issue during the inaugural 2+2 dialogue between the two countries last month and asked secretary of state Mike Pompeo to adopt a "balanced and sensitive" view on proposed changes to the H-1B regime that could impact people-to-people links. Technology firms use the H-1B visa to hire tens of thousands of professionals from India and China for specialty occupations. But the Trump administration temporarily halted the premium processing for H-1B for clearing applications in 15 days for an additional fee, made the evaluation process for applications from computer programmers more stringent and made other changes, such as doubling the minimum salary requirement. The Trump administration's moves have already hit Indian tech companies, which are heavily dependent on using Indian engineers, and even American firms such as Amazon and IBM. Any move that forces them to higher more Americans will affect their profitability.
It is understandable for Mr Trump to talk about being tough at the borders of the US to prevent the entry of those he describes as "criminals" – this is the sort of talk that has endeared him to his support base. But it makes little sense for his administration to be taking steps that affect Indian technology workers, who are hardly sneaking across the US borders, especially when members of his cabinet describe India as a key ally and push strategies such as the Indo-Pacific policy. As the US restrictions have kicked in, more and more Indian technology professionals have begun looking at opportunities in Canada and European nations, though the United States continues to be the promised land for them. The United States clearly doesn't have enough skilled technology workers and Mr Trump could show he will walk the talk about more people coming in on merit by having a re-look at his plans to change the H-1B visa regime.
Topics
Close Story