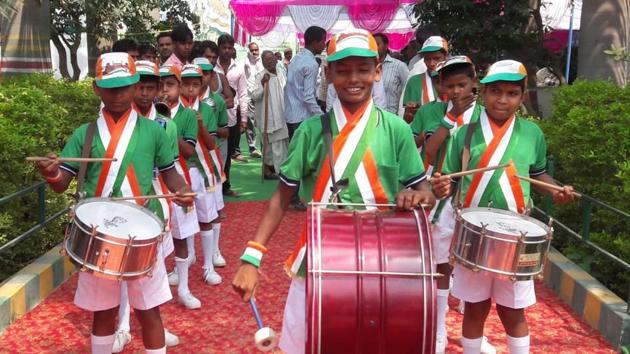 Striking the right note! This government primary school in UP has its own music bands
The principal of the primary school Gulriha in Harak block of Barabanki has formed students' music bands.
By Rajeev Mullick and Nisha Kumari
UPDATED ON JUN 23, 2018 01:51 PM IST
At a time when most government school authorities complain of lack of resources, the principal of the primary school Gulriha in Harak block of Barabanki has formed students' music bands in his institute.
Both the boys' and the girls' bands, introduced a few months ago, have 12 members each. They play on special occasions, such as, the Republic Day, the Independence Day and others. Members sport vibrant uniforms, as they play snare drum, bass drum, trumpet and flute, setting a benchmark for other primary schools.
"I carefully picked their outfit, which includes a green T-shirt, a white half pant/skirt, white shoes, a tri-coloured cap and a scarf, to exude an aura of patriotism," said principal Sushil Kumar.
From introducing smart classes to the music bands, Kumar is leaving no stone unturned in transforming the school's image into that of a model school. "I saw how in private schools, enthusiastic children took out Republic Day processions on the symphony of ensembles. I wanted that for our kids here as well," he said.
Eleven-year-old Man Singh, who is on the bass drum, said, "It is a wonderful experience. We get to dress differently and perform in public." Another student, Sachin Kumar, 10, who is on the snare drum, added, "I feel happy when we perform and the spectators appreciate us." Their training was facilitated by district scout master Rajendra Tripathi.
Eager to bring about a change, Kumar said he bought the musical instruments using the money received as part of the 'Excellent School Award' won by the institute during the Akhilesh Yadav regime.
School teacher Jyoti Rawat, 33, said, "On hearing about an upcoming event, children get ecstatic. Performing in front of their parents and relatives make them feel they are doing something extraordinary."
Showering praise on the Kumar's initiative, Skand Shukla, deputy secretary, director basic shiksha parishad, Allahabad, said, "This initiative of forming music band in a government run primary school is a shining example for other school principals to replicate. It will make education more fun."
The school is technologically equipped with a projector, laptops and computers. Little wonder then that the student attendance is as high as 80% and the number of enrolments have gone up from 119 to 160. In April, this year, the school also got recognised as an English medium school, which is helping attract students even from private schools, said school authorities.
"The government and various NGOs helped this school in many ways, such as, providing furniture, laptops, computers and drinking water facilities among others," said Kumar, who was felicitated with the national Information and Communication Technology award in 2017.
He also used crowd funding on Facebook to get money to upgrade the infrastructure. Acknowledging the community's support, Kumar said, "Computers were given to us by the Baba Amarnath Sewa Mandal, sports equipment came from community members, furniture came from Govind Industry, and mid day meals are provided by the government."
"Out of five classes, two are furnished with tables and chairs. For the others, we will arrange furniture soon. Our premises are also very clean, as much emphasis is placed on personal and environmental hygiene. I am working on providing maximum learning to students through minimum investment. I want to ensure that when my students pass out they easily adapt to other good institutions," said Kumar.
Close