Pathaan's 'epic' reply in 'Salaam Alaikum' scene gets cheers and whistles from fans. Here's what it meant
Jan 30, 2023 12:29 PM IST
Deepika Padukone's Rubina Mohsin says Salaam Alaikum to Shah Rukh Khan's Pathaan in the film and gets an epic reply. The scene is getting the best response from fans.
Fans of Shah Rukh Khan's Pathaan are sharing all the scenes that got the loudest cheers and whistles in the cinema hall. Apart from Salman Khan's wild entry or Shah Rukh's impressive lines, one scene from the film is a hot favourite. It stars Deepika Padukone, Shah Rukh and an epic reply.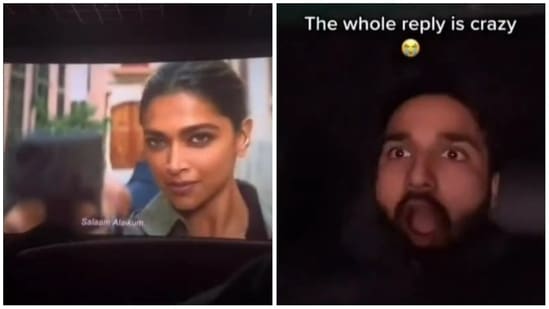 Spoilers ahead for Pathaan:
Stay tuned with breaking news on HT Channel on Facebook.
Join Now
The scene arrives shortly after interval when Rubina (Deepika) and Pathaan (Shah Rukh) meet in Paris after she betrayed him two years ago. She believes she has caught him following her but it was actually him who puts the gun to her head. 'Salaam Alaikum', she says with her gun to decoy Raza's head. But it is Pathaan who puts a gun to her head instead and says 'WalaikumAssalam Warahmatullahi Wabarakatuhu'. Fans across theatres erupted in cheers at Shah Rukh's reply, something many have been talking about on social media as well.
One wrote, "I don't know why no one's hyping it but when Pathaan replied to Rubina's Salaam alaikum with 'WalaikumAssalam Warahmatullahi Wabarakatuhu' my theater went berserk on all three watch." Another person shared their reaction to the dialogue from theatre. Watch it here:
A person asked, "Iska matlb kya hota hai (what does that mean). 'Warahmatullahi Wabarakatuhu' means 'may god's blessings be on you'. Another fan wrote in a tweet, "Bhaiii me aaj hi gaya tha 2nd time dekhne aur bhaisaabbb us scene me joo hooting hui hai (Brother I watched the film for a second time today and the hooting this scene got was something else!! I've tht clip also! People were literally hyped whn tht scene appeared on scene. Yrr share nahi kar skta abhi woh clip (I can't share it)."
"My second watch of #Pathaan was with 8 members of my family, when he said that we started clapping excitedly and Everyone looked at us in amazement. PS. show in the US," read another tweet."
Pathaan has become the biggest film of Shah Rukh Khan's career just five days after release. It has surpassed the lifetime earnings of Chennai Express with ₹500 crore earned worldwide.
The film also stars John Abraham, Dimple Kapadia and Ashutosh Rana.