Gurugram's MG Road: From a monument hub to 'notorious' Mall Mile
Hindustan Times |
Sonali Verma and Sadia Akhtar
Aug 06, 2018 03:07 PM IST
The MG Road is one of the oldest routes that traversed Gurugram. As it courts controversy, residents, officials and experts share their views on the alleged degradation of stretch
Gurugram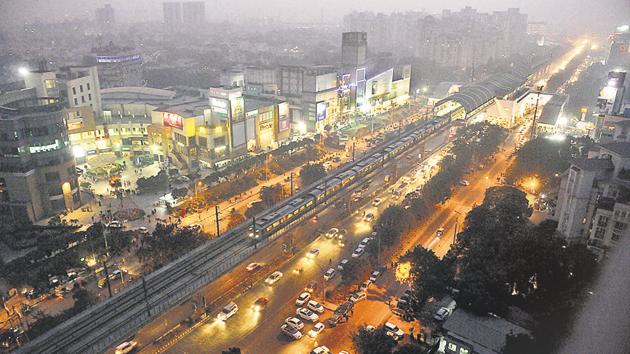 Seventy-year-old Vishnu Bhargava moved to DLF Phase 2 from New Delhi on March 25, 1993 with his wife, two daughters and a son. He remembers the precise date because for him, moving to Gurugram was nothing short of a dream.
"I was moving to my own house here from a rented place in Greater Kailash 1, and Gurugram (Gurgaon at the time) was a quaint suburb and surprisingly, very safe," Bhargava recalled. One of his fondest memories from 25 years old is looking out at MG Road from the balcony of his house to see if any car was approaching. "You could see the MG Road Junction from my house at that time. There were no buildings at all," he says.
According to heritage conservators and restorers, more than a decade ago, the MG Road stretch was home to 18th century monuments called 'pyau'. The Dhauli Pyau was where the Dhronacharya Metro station is located today. It was restored and maintained by the Haryana chapter of the Indian National Trust for Art & Cultural Heritage (INTACH) since 1998, and was razed during a land acquisition drive for the Metro by the Haryana Urban Development Authority in February 2007.
Another such monument, the Nimbuwali Pyau, was where the mall mile exists today. Navin Piplani, conservation architect, said, "The pyau used to fall on the 'shahi raasta' from Mehrauli to Jaipur. Travellers on the route would halt for breaks near these pyaus. I have spent many a Sundays around these monuments too. I remember there was a small tea shop near one of them."
History buff Sohail Hashmi too remembered how he used to visit mango orchards in Chattarpur on MG Road every summer as a child. "I largely remember MG road as a nondescript one. However, on further proceeding on the road towards Gurugram, one would see an area which used to be known as Dhauli Pyau," said Hashmi.
Today, the Mehrauli-Gurugram Road, popularly known as MG Road, has been branded as a notorious road in the gentrification capital of India. A 2.5 kilometre stretch of the road is dotted with malls, pubs and eateries, so much so that the road has been branded as the 'Mall Mile'. In July, Gurugram police raided four pubs and arrested 17 bar owners on charges of immoral activities. Residents of MG Road have been taking to the streets to protest against the rising crime graph in the area.
Residents said that the early 2000s was when MG Road started turning to what it is today. Before that, it was a single road lined with trees on both the sides.
"The malls came up here by 2004. We were initially elated because we didn't have to travel two kilometres just to buy bread anymore," said Bhargava. However, he added, due to the emergence of retail economy and corporate offices, people started getting richer and economic divisions in the society led to an increase in thefts. "This created big gangs whose members would frequent the bars on MG Road," he said.
Mukta Naik, urban planner and senior researcher with the Centre for Policy Research, moved to Gurugram in 2004 –around the time when malls were sprouting across MG Road. She said that malls used to be a novelty back then and that people from New Delhi would visit Gurugram's malls. "They were a new attraction for families who could eat and shop under the same roof. There wasn't much of a pub culture back then. All the illegal activities that one keeps hearing about didn't start happening overnight. The authorities should have been vigilant about these things. They grew slowly. Initially, Sahara mall used to be notorious for these happenings. Gradually, one started hearing about other malls," she said.
'The malls are here. But where are the people?', were some of the concerns newspapers and residents of Gurugram were echoing around 2002.
Scientist Sanjeev Kumar Saxena who was born in Gurugram said that even though the malls had arrived, poor connectivity to New Delhi was still an issue. "But soon after, these malls, accompanied by the pubs, became a hangout for families. People were really happy back then," Saxena said. He stressed that there has to be some attempt to bring back the lost glory of the road, and recommended turning a part of the road into a designated walking track.
However, Naik said that while it was important to curb illegal activities, this did not have to come at the cost of the city's nightlife.
"Gurugram has a lot of money and multinationals. Global cities across the world do have nightlife and that nightlife does lead to a situation where unknown people may go to a pub and end up walking out of it together. Maybe we are trying to impose a morality code of a very conventional kind. That's something we need to question," said Naik.
ACP (retd.) Ramesh Pal recalled that the situation got worse around 2005 when people from New Delhi started frequenting the malls on MG Road as they were serving liquor till late night. "Some of these bar owners had political connections. So due to political pressure, the police could not do much despite trying to curb their activities," Pal said.
Sociologists say that it is natural that not everyone is satisfied with the rapid pace of the development in their neighbourhood. Shantanu Roy, a 35-year-old sociology teacher at a private school in Gurugram, believes that residents are emotionally attached to their neighbourhoods. "Having a bar or a pub in your locality can represent the ultimate inconvenience. The one thing people don't want next door is a bar. That way, certain spaces can be divisive or inclusive. The difference between certain groups of people in an area can lead to self segregation in the use of particular spaces."
The bar owners of MG Road have already started searching for spaces in other areas of the city such as Golf Course Road and Sohna Road to set up shop, according to sources familiar with the matter. Roy said there isn't much time before other residential spaces too start having inconveniences with the rapid urbanisation.