'Has your dog...' row: BJP takes on Kharge, Cong chief refuses to back down
Dec 20, 2022 02:25 PM IST
On Monday Kharge hit out at the ruling Bharatiya Janata Party in the festering row over China's repeated border transgressions, most recently in Arunachal Pradesh's Tawang this month.
Sparks flew in the Rajya Sabha Tuesday after the ruling Bharatiya Janata Party and Congress MP Mallikarjun Kharge clashed over the latter's controversial 'has even your dog died for (the) country' remark. Senior BJP leaders - including union ministers Piyush Goyal and Kiren Rijiju - have demanded an apology from the opposition party chief. Kharge, however, refused to do so, insisting that remarks made outside Parliament could not be discussed inside.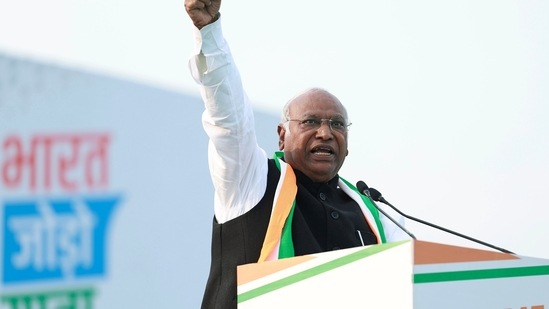 Addressing the Upper House - after protests by Treasury bench members invited a reprimand from chairman Jagdeep Dhankhar - Goyal, who is also Leader of the House, said: "Yesterday, opposition leader Mallikarjun Kharge used foul language in his speech at Alwar."
Also Read | 'Why should I apologise?' asks Congress leader over comment on Smriti Irani
"I strongly condemn it and demand an apology... The way he used foul langauge reflected his thinking and jealousy. ....He (Kharge) may be jealous his party is not being accepted by people (but) use of such foul language is an insult of this House and all citizens," Goyal said.
"After independence Gandhi said Congress should be disbanded... Khargeji is a living example of that... and is showing the nation that what Gandhiji said was true... he is a national president who doesn't know how to speak."
Earlier Rijiju, the union law minister, was equally scathing in speaking to reporters.
Also Read | Uproar in Parliament over India-China row
"I can't believe that Congress president Mallikarjun Kharge would stoop so low and use such objectionable remarks. He should understand his responsibilities as a leader of a political party. We're not enemies, we're rivals. It's distasteful, unfortunate and uncalled for."
Back inside the House a defiant Kharge said there was no need to discuss the remarks.
"What I had said politically was outside the House and not in the House. There is no need to discuss here," he said. The comments provoked another row by BJP lawmakers, who were once again reprimanded by the chairman; "We are setting a very bad example... trust me, 135 crore people are laughing at us... thinking we cannot listen to each other," he appealed.
Kharge then continued: "If I repeat what I said outside it would be difficult for them. You are asking an apology from those who fought for the country's Independence. They accused the Congress of holding 'Bharat Todo Yatra'... to which I responded saying Indira Gandhi and Rajiv Gandhi gave their lives for the country. Who has given life from your side (saffron party)?"
On Monday Kharge - while at the Rahul Gandhi-led Bharat Jodo Yatra now in Congress-ruled Rajasthan - hit out at the ruling Bharatiya Janata Party in the festering row over China's repeated border transgressions, most recently in Arunachal Pradesh's Tawang this month.
Kharge taunted the BJP and said prime minister Narendra Modi's party 'talks like a lion outside the country... but is acting like a mouse within...' - a reference to the Congress' claims that the Indian government has failed to protect its borders from Chinese encroachment.
The Congress chief said his party had helped India gain independence and then ranted, "... they claim to be patriots and if we say something we are termed as deshdrohi (anti-nationals) ...has even your (the BJP's) dog died for the country?"
The political row over China's border transgressions - this month and the 2020 clash in Ladakh's Galwan - has led to furious confrontations in the ongoing winter session of Parliament, where a united opposition has demanded a discussion on the issue.
The government, however, has refused to allow this, and has accused the Congress of using the Tawang incursion to avoid answering questions about the Rajiv Gandhi Foundation's illegal funding from the Chinese embassy in Delhi.