Archaeologists find artefacts in UP village that point to Mahabharata link
Apr 08, 2018 08:40 AM IST
The artifacts found bear strong cultural resemblance to those found at sites such as Hastinapur, Indraprastha, Kurukshetra and Mathura, places that find mention in Mahabharata.
Archaeologists excavating a site in an Uttar Pradesh village that has purported connections to a place mentioned in the epic Mahabharata have found artifacts that bear strong cultural resemblance to those found at sites such as Hastinapur, Indraprastha, Kurukshetra and Mathura, places that find mention in the legend.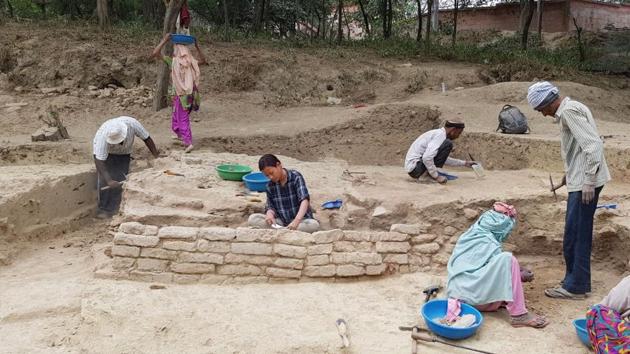 The Lakshagriha Excavation Project of the Archaeological Survey of India (ASI) is located in Barnava (Varanavat in the epic) village near Meerut in Uttar Pradesh.
According to the Mahabharata, Lakshagriha was a labyrinth-like chamber built of highly flammable lacquer by the Kauravas to burn alive the Pandavas, who foiled the plot and escaped through a tunnel.
After three months of digging at one of the biggest mounds in the village, ASI archaeologists found artifacts such as plates, bowls, large cooking pots and pitchers, but no trace of lacquer — not known to survive for long.
These, said Sanjay Manjul, the head of the excavation project, clearly indicate "that the settlers of the area belonged to the same culture that existed during that time in other places mentioned in Mahabharata".
Indian archaeologist BB Lal, who carried out extensive excavations in the 1950s at places such as Indraprastha and Hastinapur, has estimated that the epic battle in Kurukshetra could have taken place around 800 BC. Based on the relics recovered, the period was termed Painted Grey Ware (PGW) culture.
Since the first excavations at Indraprashta in early 1950s, there have been at least six excavations at places mentioned in the Mahabharata, but the ASI hasn't unearthed any conclusive or direct evidence to establish historical facts.
Lal's findings included traces of a heavy flood. According to the Mahabharata, a huge flood forced the people of Hastinapur to move to Kaushambi. Interestingly, the remains of a flood have been found at the Lakshagriha site, too.
Manjul said his team also gathered valuable artifacts such as arrowheads, spearheads, celt and beads which likely belonged to the Painted Grey Ware culture.
Soil deposits on various objects suggest that the area may have been abandoned by its settlers because of floods.
"We have also found remains of later cultures such as the late phase of PGW, Kushan period, the late Kushan period and the Rajput period," he said.
ASI officials said that with excavations coming to an end, their early observations are based on the first impression they can derive from the artifacts and other remains they have discovered.
"Human and animals bones, coins and other such objects will be studied scientifically through Carbon 14 dates to find out their approximate time period and cultural sequence," said Manjul.
"Exciting news! Hindustan Times is now on WhatsApp Channels
Subscribe today by clicking the link and stay updated with the latest news!"
Click here!
Get
Latest India News
along with
Latest News
and
Top Headlines
from India and around the world