Decision on Rajasthan leadership will only benefit party: Jairam Ramesh
Jan 13, 2023 06:24 PM IST
The Congress leader also released a letter by party leader Rahul Gandhi over his experiences during the Bharat Jodo Yatra
Amid speculation about change of leadership in Congress-ruled Rajasthan, party general secretary Jairam Ramesh clarified on Friday that both leaders- chief minister Ashok Gehlot and legislator Sachin Pilot, were 'assets' for the party, and whatever decision the Congress top brass would take, 'will only go on to benefit the party and not any particular individual'.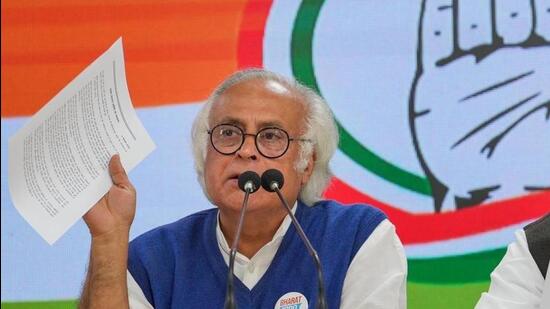 "I believe that some way or the other, the matter of leadership change in Rajasthan will only be for the benefit of the party and not for any member. Whatever decision Mallikarjun Kharge (Congress president) and Sukhjinder Singh Randhawa (Congress' Rajasthan in-charge) come up with, will only go on to strengthen the Congress. Rahul Gandhi has clearly expressed that both Sachin Pilot and Ashok Gehlot are assets for the party," said Ramesh while addressing a press conference.
Also Read: 'I wore mask longer than PM, his mask yesterday was...': Jairam Ramesh
This statement by the party leadership comes at a time when Congress leader Pilot gears up for the 'Kisan Sammelan' scheduled to be held from January 16 while Rajasthan chief minister Ashok Gehlot prepares to present the 2023 Rajasthan budget on January 23.
Congress' Ramesh also released a letter by party leader Rahul Gandhi over his experiences during the Bharat Jodo Yatra and affirmed that the same would be distributed from door to door during the 'Hath Se Hath Jodo' campaign.
While mentioning that, Congress stated that along with the letter, they will also be attaching a report compiled over eight years by the Congress highlighting the failures of the Prime Minister Narendra Modi-led government.
From Republic Day 2023, Congress will be embarking towards the 'Hath Se Hath Jodo' programme, which is part of the Bharat Jodo Yatra led by Gandhi.
In the campaign, the Congress flag will be unfurled in every village and party leaders would go door to door and interact with people.