'Leave Kyiv urgently': India to citizens in Ukraine as Russian forces approach
Published on Mar 01, 2022 12:17 PM IST
Ukraine war: Thousands of Indians are still stuck in the war-hit country.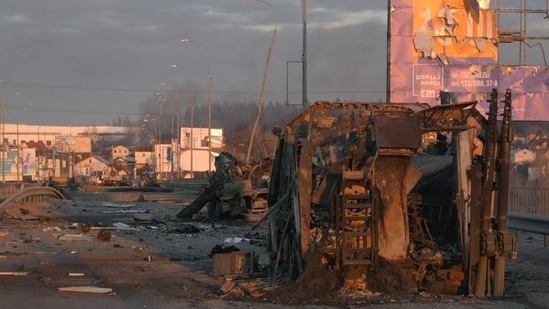 India has told its citizens - stuck amid the Ukraine war - to 'leave Kyiv urgently today'. "Advisory to Indians in Kyiv- All Indian nationals including students are advised to leave Kyiv urgently today. Preferably by available trains or through any other means available (sic)," a statement tweeted by the Indian Embassy in Ukraine read. Satellite pictures have captured Russian tanks on the outskirts of the Ukrainian capital. The city has been on edge since Friday. Over the weekend, it saw fighting on streets and attacks on residential buildings.
India is trying to speed up the evacuation process with thousands still stuck in the war-hit country. About 8,000 people have so far been brought back to the country as Russia began a "full-scale" invasion of Ukraine last week.
"Russian forces have increased their use of artillery north of Kyiv and in the vicinities of Kharkiv and Chernihiv. The use of heavy artillery in densely populated urban areas greatly increases the risk of civilian casualties," the UK's ministry of defence said in a tweet, adding that "the Russian advance on Kyiv has made little progress so far".
Prime Minister Narendra Modi has held three high-level meetings since Sunday to discuss the Ukraine crisis. Earlier on Tuesday, he met President Ram Nath Kovind to discuss the issue. He has also called for the Indian Air Force to join the evacuation efforts under Operation Ganga, sources have said. Last week, he spoke to Russia's Vladimir Putin and Ukraine president Volodymyr Zelenskyy to discuss the safety concerns.
In the midst of the Ukraine war, about half a million people have fled the country. Kyiv, meanwhile, is trying to put up a strong resistance against Moscow.