Make in India: Railways to pitch for building bullet train coaches locally
At a later stage, the Railways plans to offer one of its factories for local manufacturing of the coaches to a Japanese company that might be interested in making them in India.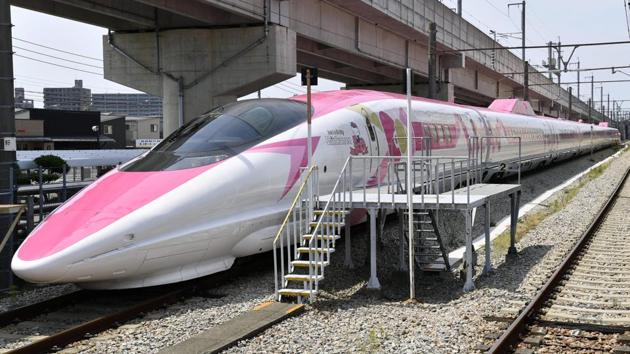 Updated on Oct 04, 2018 07:52 AM IST
Indian Railways is planning a 'Make in India' touch to the super-fast bullet train project connecting Mumbai with Ahmedabad, two officials familiar with the matter said.
The high-speed trains, known as Shinkansen in Japan, or new trunk line, will initially be imported, but at a later stage the state-owned transporter wants to offer one of its factories for local manufacturing of the coaches to a Japanese company that might be interested in making them in India, the officials said on condition of anonymity.
Indian Railways in September gave a presentation to a working group, which included representatives from India and Japan, monitoring implementation of the Mumbai-Ahmadabad High Speed Rail project, and projected Modern Coach Factory (MCF) in Raebareli, UP, as a potential manufacturing site for bullet train coaches, said one of the officials.
"MCF has robotic production lines and can be ideal for bullet train coaches. We will have to transfer the technology from one of the companies (manufacturing such coaches in Japan)," said the official.
The expected cost of local manufacturing of the bullet train coaches is yet to be worked out.
The foundation stone for the Mumbai-Ahmedabad bullet train project was laid by Prime Minister Narendra Modi and his Japanese counterpart, Shinzo Abe last year. The introduction of the bullet train, capable of hitting a speed of up to 350 kmph, will mark the country's shift from an era of slow-speed trains to high-speed ones.
"Modern Coach Factory has been set up for producing state-of-the-art coaches for operational speeds of 160 -200 kmph with an annual capacity of 1,000 coaches. Production capacity is being further enhanced to 2,000-plus coaches per year in next 1 to 2 years," said an MCF official who asked not to be named.
"MCF is interested in manufacturing indigenously self-propelled medium/high speed coaches at the rate of 500 coaches in the next two years or so for Metro MEMU (mainline electric multiple unit) and EMU train sets. It can also produce bullet train coaches," he said.
National High Speed Rail Corporation (NHSRC), which is implementing the 508-km project, is set to purchase 18 Shinkansen train sets from Japan in the first phase of the country's first bullet train corridor,an NHSRC official said and added it would cost around ₹7,000 crore.
In the second phase of the project, slated for commissioning in 2022, parts will be imported and assembled locally for the bullet trains. In the third phase, Indian Railway wants to manufacture the coaches at one of its facilities.
"This will not only generate employment but also give a push to 'Make in India," said the second railway official, referring to the programme aimed at attracting foreign investment and promoting local manufacturing.
Indian Railway will set up bullet train assembling facility on a public-private participation basis. According to an official with NHSRC, Japanese companies are likely to set up facilities in India to manufacture parts for bullet trains. The 35 bullet trains with 10 coaches each, which will initially run on the Mumbai-Ahmedabad route, will have one business class coach and nine standard coaches each. The lowest fare is expected to be ₹250 and there will be a cap of ₹3,000 on the fares. Land acquisition is underway for the 508-km long corridor.
"Railway is more than capable of manufacturing bullet train coaches and all they need is transfer of technology at the earliest," said RK Singh, a former chairman of the Railway Board.
Close Story
Personalise your news feed. Follow trending topics