'Talk it out': Venkaiah Naidu's advice to govt, Oppn on deadlock over suspension
Rajya Sabha chairman M Venkaiah Naidu came against the backdrop of protests by opposition parties that have stalled proceedings in the House over the suspension of 12 members for "unruly behaviour" on August 11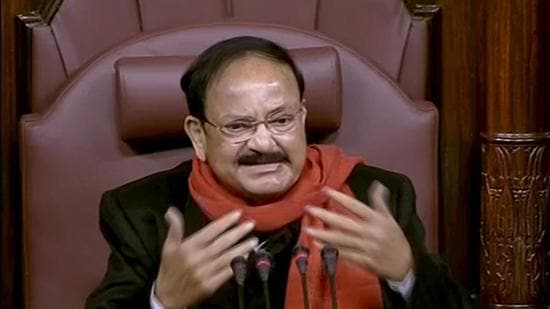 Updated on Dec 02, 2021 12:59 PM IST
NEW DELHI: Rajya Sabha chairman M Venkaiah Naidu on Thursday urged the government and the Opposition to find a way to end the stalemate over the suspension of 12 members of the House. After the House passed a resolution on Monday moved by the government to suspend the members for "unruly behaviour" on the last day of the Monsoon Session, Opposition lawmakers have been protesting against the decision.
"It is human to err and it is also human to make amends. One cannot refuse to amend and insist on glossing over the wrongdoings….I urge both the sides of this august House to talk it out and let the House do its mandated job," Naidu said.
Rajya Sabha has been unable to transact business since the beginning of the Winter Session on Monday due to disruptions by the Opposition over the suspension of 12 members for "unruly behaviour" on August 11 in the House.
Also Read: Parliament winter session: Opposition plans to continue protest in Rajya Sabha for a week
As Opposition members continued to raise the demand for allowing Mallikarjun Kharge, the Leader of the Opposition, to raise the issue, Naidu reiterated that the members had "not expressed remorse."
"This is the fourth sitting of the first session of this august House in the 75th year of our hard-fought Independence. The House could not transact any business during the last three days," he said.
Even as the Opposition members kept pushing for Kharge to be given a chance to speak, Naidu said, "…Since I cannot go public with my anguish in any other way, the only platform to share my anguish and thoughts is to speak in the House. Some of the respected leaders and members of this august House, in their wisdom, chose to describe the suspension of 12 members as 'undemocratic'. I have struggled to understand if there was any justification in that kind of a narrative being propagated but could not."
The opposition parties have closed ranks and called the suspension unfair. They have maintained the members were suspended without following proper procedure. The government has stuck to its stand that the action will be reconsidered only when the suspended members apologise in the House.
"While calling this suspension as undemocratic both within and outside the House, not even a word is being said about the reasons given for the suspension, the disdainful conduct of some members during the last session, which I have categorically called as 'acts of sacrilege' on the last day of the last session," Naidu said. "…I am deeply pained to know from media reports of categorical refusals to express any regret for the acts of misconduct during the last session that led to this round of suspensions. Then what is the way forward?"
Close Story