In Ayodhya, Uddhav Thackeray asks PM Modi to bring ordinance on Ram temple
In the run up to the Lok Sabha polls, Shiv Sena had criticised its ally, the BJP, for allegedly putting the Ram Temple issue on the back burner. BJP has maintained that it remains committed to construction of the Ram Temple at the earliest.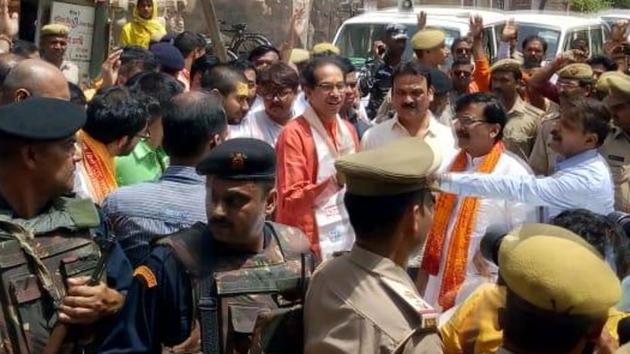 Updated on Jun 16, 2019 01:45 PM IST
Shiv Sena chief Uddhav Thackeray on Sunday asked the Modi government to bring an ordinance to enable construction of the Ram Temple in Ayodhya.
"We have a strong government at the Centre under Modi ji (PM Narendra Modi). The government must bring an ordinance for construction of the Ram Mandir in Ayodhya," Thackeray reiterated his party's demand. Soon, law must be enacted for construction of Ram Mandir, he added.
Sena chief's remarks come just a day before opening of the 1st session of the 17th Lok Sabha.
"Before the start of the Parliament session, we have come to Ayodhya to seek blessings of lord Ram," said Thackeray.
The Shiv Sena chief made it clear that if required the party would resort to agitation for construction of Ram Mandir in Ayodhya.
Assuring saints of Ayodhya, the Shiv Sena chief said: "Soon, temple will be constructed in Ayodhya. All Hindus across the world want Ram Mandir in Ayodhya."
Thackeray was in Ayodhya along with his son, Yuva Sena chief Aaditya Thackeray, and 18 party MPs to offer prayer at the makeshift Ram Mandir.
"It is because of blessings of lord Ram that the party (Shiv Sena) has performed well in the election (2019 lok sabha)," Thackeray told newsmen.
These MPs will start their career after seeking blessings from lord Ram, he added.
On the question of alliance with the BJP in Maharashtra, Thackeray said: "Alliance depends on both the parties."
Thackeray, however, clarified: … Ram Mandir is not an election issue for the party."
"In the last election, party's slogan was 'first temple then government' (pehle Ram Mandir phir sarkar)," he asserted.
Ruling out any friction with the BJP over the temple issue, Sena chief said, "Bal Thackeray ji wanted all Hindus to unite. To avoid confrontation with likeminded parties we do not contest election outside Maharashtra. We have no differences with the BJP."
Late Bal Thackeray was the founder of Shiv Sena and Uddhav Thackeray's father.
The UP government has accorded the status of state guest to the Shiv Sena chief and party MPs.
Uddhav Thackeray had attended 'Ashirwad Sammelan' at the Lakshman Quila ground organised by saints last year on November 24 in Ayodhya. He had then promised to come back to pay obeisance to lord Ram after the lok sabha polls.
.
Close Story