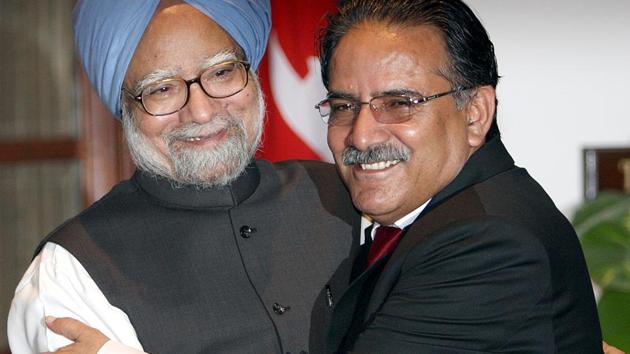 When another Nepali communist Prime Minister visited Delhi
A decade ago, Pushpa Kamal Dahal 'Prachanda' visited New Delhi after his party won the election and made him prime minister. He was republican Nepal's first head of state.
UPDATED ON APR 08, 2018 08:00 AM IST
KP Oli is in Delhi on his first overseas visit since becoming Nepal's prime minister for a second time in February. He comes armed with an overwhelming election mandate. He is a senior leader of the Communist Party of Nepal (Unified Marxist-Leninist) and is viewed as distinctly pro-China. His political rhetoric back home is nationalist, and in the Nepal context, nationalism often ends up being framed as opposition to India. Despite this, New Delhi has laid out the red carpet for Oli and accorded him a warm welcome.
Read | Nepal PM Oli's visit to India signifies fluidity of politics and diplomacy
There are many differences, but 10 years ago, in 2008, another Nepali Prime Minister – a Maoist, not just a mainstream communist leader – seen as pro-China, who had won an election unexpectedly and used similar 'nationalist' rhetoric, visited India. New Delhi had then, similarly, laid out the red carpet for the leader. HT looks back at Pushpa Kamal Dahal 'Prachanda's first visit to India as Prime Minister.
Context
Nepal had been locked in a triangular power conflict — between an autocratic monarch, parliamentary parties, and armed Maoist rebels. In 2005, India helped facilitate a deal between the parties and the Maoists — the former agreed to join a movement for republicanism, and the latter agreed to give up violence and accept multi-party democracy.
A People's Movement ousted the monarch. The Maoists joined open politics and signed a peace agreement in 2006. Their soldiers and arms were locked in to cantonments. And in 2008, elections were held for a Constituent Assembly. The Maoists, just two years after emerging from underground, became the single-largest party. Prachanda became republican Nepal's first PM.
What happened
Delhi was taken aback by the election result. It had helped the Maoists join mainstream politics, but it remained suspicious of them. And it believed that Prachanda's democratic credentials were not entirely tested and he could still aim to use power to establish some kind of political hegemony. So ideally, India would have liked to lock in the Maoists within a democratic framework, but as a junior partner. This did not happen. India now had to deal with a Maoist government in its neighbourhood.
It did not start well. Breaking convention, Prachanda made his first visit to China to attend the closing ceremony of the Olympics. India was uneasy — did this signal that Prachanda wanted to break the special relationship Nepal had with India for decades? But the Maoist leader was careful and after returning from Beijing, announced his first 'political visit' would be to India.
Delhi decided to drop its worries and focus on making the visit a success. After all, India had backed the democracy movement and facilitated the entry of Maoists. Indian officials had established a relationship with Prachanda. And it was believed that by engaging with him, India could ensure that he did not tilt northwards to China.
Prachanda charmed Indian audiences. He met PM Manmohan Singh with a hug. The entire Indian political leadership, across party lines, welcomed Prachanda at a special lunch hosted by the veteran socialist leader Sharad Yadav. He spoke at a business chamber meeting, wooing investors, which did much to break the image of an insular communist leader.
But the warmth did not last.
Significance
In his meeting with PM Singh, Prachanda had made a commitment — he would not do anything with regard to the Nepal Army without a political consensus. The context was important. During the civil war, the Nepal Army had fought the Maoists on behalf of the king. It had accepted political change, but was apprehensive of the Maoists. The Maoist combatants had to be integrated into security forces, and the army was not keen on the prospect.
But soon after he got back to Kathmandu, Prachanda's tensions with the army increased. He eventually tried to sack the army chief, General Rukmangad Katuwal. This was unacceptable to India ,which saw it as a move by Prachanda to take over the army and capture Nepali state institutions to establish a one-party regime. The rest of the Nepali political class, backed by India, managed to stall Prachanda's move and he had to eventually resign in May 2009.
India and Prachanda eventually made up. The Maoist army is now disbanded and a few thousand were eventually integrated into the Nepal Army. Prachanda returned to India as PM in 2016.
KP Oli is a much stronger leader than Prachanda was; Nepal is much more assertive than it was: the Chinese presence in Kathmandu is unprecedented now; and India's hand is weak. Ten years after Prachanda's visit, it will be interesting to see the fallout of Oli's India trip.
Close