Where books teach that gods live inside cows: Inside Bengal's 'RSS-inspired' schools
Feb 24, 2018 07:48 AM IST
The Mamata Banerjee government has said shutting down of 125 schools for "deviating" from the state's curriculum and operating without obtaining 'no-objection certificate'.
Teachers of Saraswati Shishu Mandir at Balibela in Hoogly district, about 100km northwest of Kolkata, are a worried lot. The school's silver jubilee celebration in December coincided with the biggest survival threat it has faced – chief minister Mamata Banerjee's crackdown against "RSS-inspired schools".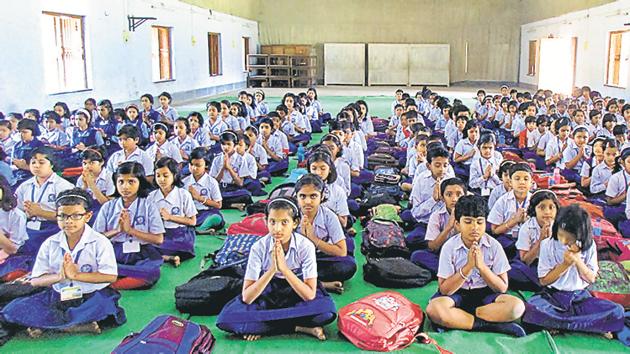 After education minister Partha Chatterjee's announcement in the assembly Tuesday regarding the shutting down of 125 schools for "deviating" from the state's curriculum and operating without obtaining 'no-objection certificate', teachers at the Balibela school are anxious to find out if their school features on the list.
'Breeding hatred'
Chatterjee had said that the government has received information about 493 schools that are inspired by the Rashtriya Swayamsevak Sangh, the ideological mentor of the BJP, and had also remarked that "schools are not the places for wielding sticks".
"At a public meeting two months ago, MLA Manas Majumdar lambasted us for preaching hate and working towards disturbing communal harmony," said Bijoy Chandra Roy, a swayamsevak and the school's headmaster since its inception.
The MLA said that the school was a "facade" for the RSS' main operational centre for its Arambag subdivision. "Senior RSS pracharaks stay at the school while visiting Arambag. It hosts RSS's training sessions. Why are they using a school as breeding ground for communal hatred?" he said.
Roy claims teachers from government-sponsored primary schools "have been asked to convince parents to get their children enrolled at government schools".
District school authorities recently informed Roy that 65 of his 427 students have enrolled in government-run schools.
An inside look
Run by Vidya Bharati Akhil Bharatiya Shiksha Sansthan, the educational wing of the RSS, the school started operating in 1992 in a mud hut with 17 students. It now functions from two two-storeyed buildings named after RSS founder KB Hedgewar and his successor MS Golwalkar.
Eighteen teachers (acharyas) and three non-teaching staff look after 427 students in eight classes: pre-primary sections Arun, Uday and Pravaat, and Classes 1 to 5. Vidya Bharati runs 326 schools in the state, where 65,000 students are taught by 3,200 teachers. Most of the schools are for students up to Class 5 while about half-a-dozen have sanction to hold classes until the 10th standard.
In the morning, the school begins with Saraswati vandana, yoga and moral lessons. Students are allowed to have their tiffin only after chanting the 'bhojanam mantra'.
Curriculum fix
The state government finds the books on India's history and culture, titled 'Bodhamala', most objectionable. The books speak about Hinduism and place RSS ideologues Hedgewar, Golwalkar and Deendayal Upadhyaya among the "great men" of India since the ancient times. Among other things, Maharshi Kanada is mentioned as "world's first atomic scientist" and that Afghanistan's name "came from Sanskrit word Upaganasthan".
Books claim that eating food before taking bath affects health and that cow is mother "because gods live in her body".
The importance of the 'Bodhamala' books is so high that the teachers are also required to take centrally-conducted tests every year. "We stress equally on curricular and co-curricular activities, aiming at the child's comprehensive development," said Anil Kanrar, teacher, Sarada Shishu Mandir at Tantiberia.
Partha Ghosh, Vidya Bharati's north Bengal in-charge, said government authorities carried out inspection twice in last one year.
"School inspectors were accompanied by the police. The headmasters were asked about the curriculum, whether the RSS funds these schools and gets a portion from the earnings," Ghosh said.
Ten schools in North Dinajpur district took the legal route last year after receiving the closure notice. The HC in February ruled against the district inspector of schools for acting "on a verbal order" from the education department. "..but we are ready to go to Supreme Court," the education minister has said.