How to manage fatigue in dogs? Tips pet parents must follow
Jan 13, 2023 04:20 PM IST
Is your dog feeling low on energy or sleeping all day nowadays? Here's what you can do to replenish your furry friend's energy levels.
Dogs love to take long naps nearly as much as they adore long walks, so it's completely normal for them to feel lazy and it shouldn't worry pet parents. But if your dog is feeling low on energy and is lethargic over a longer period of time and you feel it's not normal, there could be an underlying health issue, overexertion or lack of mental stimulation that needs to be investigated under the guidance of a veterinary doctor. Considering it's winter nowadays, your furry friend may not be inclined to drink too much water and that could also deplete their energy levels. Winter is another reason why people may skip walks with their canine companion and this could impact their mental health and thus energy levels. (Also read: Best nutrition tips for your dog this winter)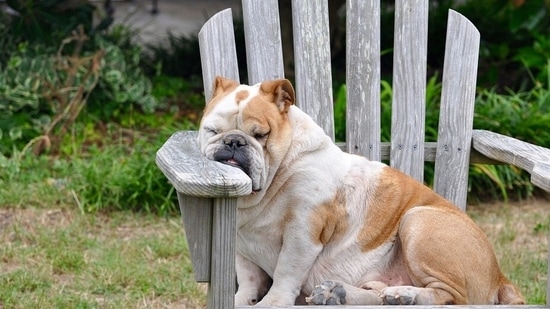 "Seeing a dog take a nap for a long time does make you feel jealous, right? But it's completely normal for them to take longer naps but if your dog seems low on energy, and enthusiasm then they might be experiencing boredom, fatigue, or lethargy. Though sometimes it's normal for dogs to feel lethargic if it's for a longer duration, it might be the right time to take them to the vet. Overexertion or some health issues might be the reason for fatigue in dogs, so let's take a look at how to manage fatigue in dogs," says Dr Aishwarya R, Veterinary Officer, Wiggles.
Here are ways to manage fatigue in your furry friend as suggested by Dr Aishwarya.
Mental exercises
Managing mental fatigue is also extremely essential and doing some mental exercises for dogs can be helpful in managing fatigue or not letting them get fatigued. There are a variety of exercises like keeping treats in your closed palms and letting your dog find them. Stimulation of dogs' minds is necessary to keep them sharp for much longer as they get old.
Proper walks
Physical activity is the key to managing fatigue in dogs. Taking your dog for a proper walk can do wonders for keeping his enthusiasm up and managing fatigue efficiently. But the key here is it should be a walk that isn't a leisurely walk, it should be one where you walk with your dog at a constant pace and the dog should start panting. This is a great way of utilizing their energy and keeping them active.
Water intake
Lack of adequate water intake can be one of the prime reasons for fatigue in dogs. Ensuring proper water intake will prevent dehydration and in turn won't cause lethargy or fatigue in dogs.
Weight management
Obesity can cause fatigue and loss of enthusiasm in dogs. Keeping an eye on their diet and nutrition can be the best way to manage fatigue, keeping them healthier and increasing their lifespan.