Starting today, get ready to pay a fine for carrying plastic in Maharashtra
Updated on Jun 25, 2018 05:13 PM IST
On Sunday, in the Chembur area alone, officials fined 72 shops a total of ₹3.35 lakh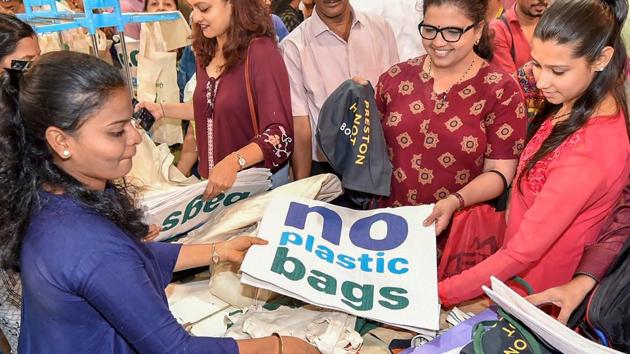 Hindustan Times |
, Mumbai
Eeshanpriya M S
Come Monday — day three of the plastic ban — the BMC will start fining citizens too for using plastic. While the ban on dozens of daily-use plastic items, such as carry bags, PET bottles less than 500ml, takeaway containers from restaurants, among others, came into effect on Saturday, the civic body's special squad in-charge of implementing the ban only penalised retailers over the weekend.
A senior civic official who is part of the implementation said that from Monday, citizens too can be penalised for using plastic, but that decision has been left to the inspectors, depending on the situation.
Meanwhile, citizens, retailers and restaurants remained unclear about what exactly is banned. Several hotels and shops reported losses over the weekend. On the first two days of the ban, the inspectors focused on specific areas — CSTM and Crawford market on Saturday, and Chembur on Sunday. The 24 teams have now been asked to inspect their respective wards from Monday. "We want to focus on malls, hotels, shops and big commercial complexes first, as they were given enough time to prepare and get rid of plastic from their premises," said Nidhi Chaudhari, deputy municipal commissioner in charge of implementing the ban. "But, this does not mean citizens found carrying plastic bags will not be fined."
On Sunday, in the Chembur area alone, officials fined 72 shops a total of ₹3.35 lakh, and collected 591.67kg of plastic. It inspected 867 shops in all. Some members of the squad also inspected the R-City Mall in Ghatkopar.
Even after two days of the ban coming into place, and months after it was first announced, there continued to be confusion among citizens and shopkeepers about what exactly is banned.
Viren Shah, President of the Federation of Retail Traders Welfare Association (FRTWA) said, "On Sunday, inspectors fined shopkeepers for kulfi wrappers and popcorn tubs at R-City mall. They do not even know if this is covered under the ban."
Restaurants and retailers complained of losses over the weekend; shops remained shut on Sunday. Shah said, "Retailers, especially grocery stores, incurred losses up to 50%. Farsan and other perishable items that are easily affected by rain have reported 100% losses." Restaurants reported losses of up to 30% on home delivery and take-away orders as they were not able to find an alternative to the plastic containers they usually use.
In response, retailers have decided to take a call on a Maharshtra bandh by Wednesday, while restaurants owners will write to chief minister Devendra Fadnavis asking for alternatives for the plastic containers.
In the coming week, the 24 teams will mainly inspect their respective wards. Officials have also been asked not to engage with offenders who refuse to pay the fine.
An inspector said, "We have been told to just give the offenders the challan and leave, if they refuse to pay. It is still unclear for several citizens which Items are banned ."
Close Story
Personalise your news feed. Follow trending topics