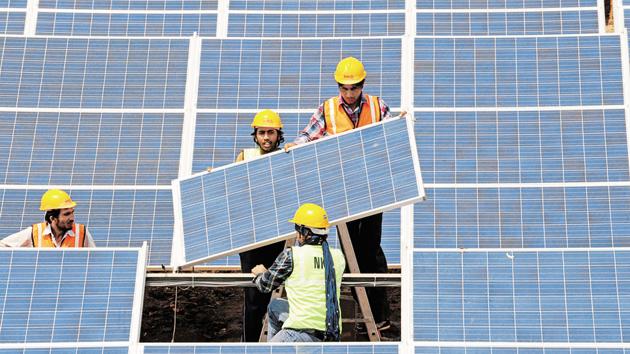 Expand the horizons of India's solar story
For the Indian solar narrative to go beyond catching the eye, it has to be perceived as built around a robust and inclusive framework
By Amit Kumar
PUBLISHED ON MAR 22, 2018 12:46 PM IST
At the recent foundation day summit of the International Solar Alliance (ISA), Prime Minister Narendra Modi issued a clarion call for a worldwide solar revolution while underlying the critical role solar energy must play to achieve the Sustainable Development Goals. The ISA is the first international energy body that is not only headquartered in India, but has been conceptualised here. This gives us a golden opportunity to build on our extensive experience on various facets of solar energy, from decentralised thermal applications to GW-sized solar parks.
ISA, therefore, needs to focus on providing support to partner countries for a range of activities from developing specific action plans, identifying technological choices, ease of financing and risk-mitigation, and effective implementation. This essentially involves knowledge and experience-sharing with respective stakeholders, including policy-makers, practitioners, industry, and civil society at large. However, for ISA to be considered as a truly global organisation, it must shed the image of being a wing of the government and put in place a forward-looking narrative outlining broad directions for its collaborative journey.
On the domestic front, while we in India must feel proud of having achieved a solar power capacity of 20 GW well ahead of the solar mission's initial timeframe, it would be useful to keep the goal of 100 GW by 2022 in sight. At this juncture there is a need, therefore, to pause and reflect if there was anything that could have been done better; something that might have put the sector in an altogether different trajectory.
Ever since the solar tariffs started coming down drastically on account of aggressive reverse bidding coupled with several global factors, the unfolding scenes have not been very reassuring. On the one hand, there appears to be a sense of complacency (or is it overconfidence?) as far as the government is concerned. On the other, there are disquieting incidents such as utilities going back on negotiated power purchase agreements and imposition of duty on imported solar panels.
That the indigenous solar industry must be encouraged cannot be overemphasised if we are to draw maximum benefits from a programme of this scale. For this to happen, India needs to graduate to policies that facilitate and incentivise industry to acquire the latest technologies, state-of-the-art manufacturing equipment and economic scales of operation. The key is to focus on the complete value chain, on components, balance of systems, and products as well.
Currently, the unease is due to sudden, and at times, seemingly arbitrary reversal of stated policies. And this is the case when both proliferation of solar energy and ease of doing business have been accorded top priority by the prime minister. A perceived risk in consistency and long-term visibility of policies could prove detrimental to the further progress of the programme.
The more worrying aspect pertains to the apparent lack of coordination among different government ministries and departments. It is imperative that the concerns of project proponents and investors too are taken in to account before affecting any policy changes midway. After all, the programme's success is ultimately predicated on these very players. And the best way to avoid such risks is through long-term visibility of the policy and regulatory regimes. It is said that the public governance is important for investors and their businesses. It helps build trust and provides rules and stability needed for planning investment in the medium and long term.
All the planning and investments decisions are taken on the basis of the prevailing commercial conditions. In a situation when bidding had already turned very aggressive, changing those very parameters put the industry in a totally unviable and in a way, helpless, situation that does not bode well for the sector itself in the long run.
For the Indian solar narrative to go forward, it has to be perceived as being built around a robust and inclusive framework. On the other hand, India also needs to rededicate itself to R&D, which somehow has got relegated to the fringes. Along with ISA partnerships, its enviable experiences and knowledge would then enable a solar revolution in more ways than one.
Amit Kumar is senior fellow and senior director, Rural Energy and Livelihoods, TERI
The views expressed are personal
Close