Here's why China is financing local elections in Nepal
Nepal is an important country for its One Belt One Road (OBOR) project and during this summit, Prachanda assured Kathmandu's participation.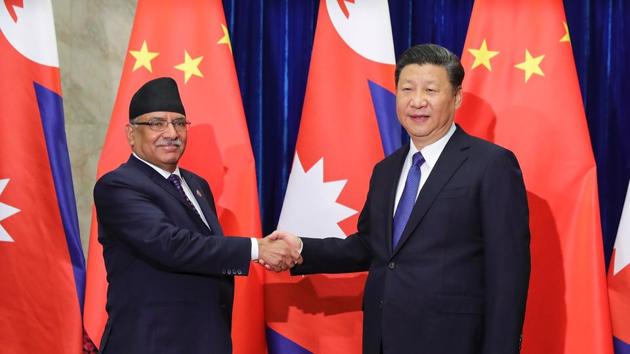 Published on Apr 03, 2017 12:44 PM IST
Following a summit between China's President Xi Jinping and Nepal's Prime Minister Pushpa Kamal Dahal Prachanda, Beijing announced $1 million towards the country's local elections in May.
The move brings Beijing's non-interference doctrine under the scanner again, after it was first questioned during the Sudanese civil war. China allegedly fuelled the civil war by providing the money - through the purchase of oil - and arms.
Back then, China had to resort to covert tactics to ally with a political faction. Today it's far more powerful with a bigger stake and influence across the globe, and thus an expression that's more overt - as that in Nepal.
But Madhesis oppose the election until their demands for territorial re-demarcation and political representation are met.
China's funding is viewed as an act "fanning chances of conflicts in Nepal."
Immediately after his China visit Prachanda confirmed the May elections stating nonparticipation would be viewed as secessionist tendencies.
Failure to induct 'Madhesi-centric parties' in the elections, fears Nepal's Deputy Prime Minister and Minister for Local Development Kamal Thapa, may instigate 'separatists.'
The question is why would China want this?
Its stakes in Nepal are rising. China feels making inroads into political decision-making is the only way to protect its interests. This situation is identical to the one that surfaced in Sudan where Beijing had already invested billions in the nation's oil sector by the time of the war.
Investing in the elections would give Beijing the room to arm-twist Nepal's resource starved political circle.
As this Global Times op-ed clearly states: China has every reason to require the Nepalese government to safeguard the interests of Chinese investors and contractors.
Nepal is an important country for its One Belt One Road (OBOR) project and during this summit, Prachanda assured Kathmandu's participation.
China announced a $8.3 billion investment plan. Several projects (key to OBOR) need speeding up - Kathmandu Ring Road Phase II, Pokhara International Airport, Gautam Buddha International Airport and the West Seti Hydropower.
India remains a concern. Many in Beijing believe New Delhi facilitated Prachanda's coming to power to form 'a pro-India government.'
China says the Prachanda government hasn't made any substantial progress in the deals signed during KPS Oli. Soon Sher Bahadur Deuba will succeed Prachanda. Beijing is anxious these frequent transitions may further hinder the agreements.
But this may alienate an important faction in Nepal who view Beijing as meddling in its internal affairs - a perception that's caused discomfort in the Indo-Nepal relation.
An editorial in Kathmandu Post stating that Beijing hardly cares about other projects except for OBOR pointed out that work needs to speed up from the Chinese side too to build oil storage facilities in Nepal, or the plan to import 33% of its fuel from China. The matter is stalled because of price and customs issues. Nepal also offered free visas to Chinese visitors without any reciprocation.
So, it remains to be seen whether China's political investment in Nepal brings about the brownie points it expects.
Jhinuk Chowdhury is an independent journalist who writes on South Asian affairs
@jhinuk28
Close Story