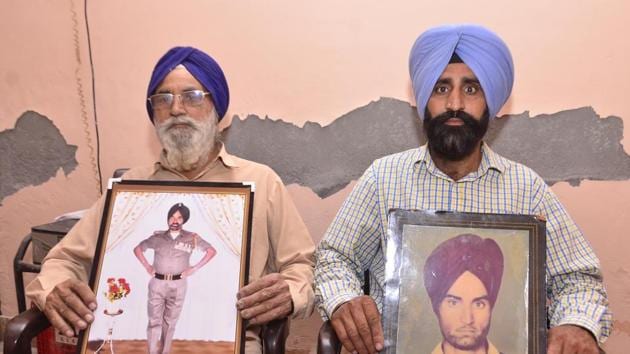 'Faujian Da Pind' angry over mutilation of soldiers' bodies
Pandori Sidhwan village in Tarn Taran, which has around 100 of its men serving in army and as many retired personnel, demands more freedom to army; residents burn effigy of Pakistan.
UPDATED ON MAY 04, 2017 09:47 AM IST
Pandori Sidhwan village in Tarn Taran district, is known as 'Faujian Da Pind'. With around 100 men from the village serving in the army and around as many retired from the army and paramilitary forces makes this village proud. But the recent killings of Indian soldiers by Pakistan army and mutilation of their bodies have made the village residents angry.
As one moves around in the village, one finds that almost every house has a son serving in the army or one who has come back after serving. The village ground sees a lot of buzz in the morning as numerous youngsters reach their for workouts to prepare for joining the armed forces.
Such is the anger against Pakistan over its recent acts that many villagers staged a protest on Wednesday and burnt an effigy of the neighbouring country. They urged the central government to respond in a befitting manner.
Talking to HT, retired Subedar Gurdeep Singh, whose father and grandfather had served in the forces, said, "It is very painful to see that Indian soldiers are being killed on the border and even more shocking is the treatment meted out to their bodies. This has angered our village, which has sent many youngsters to the army. India must punish the enemy and give a befitting reply."
Joginder Singh, who took part in the 1962 and 1965 wars, said, "Our village has a tradition of sending youngsters to the army. But today, the village is sad and angry. The bodies of Indian soldiers being mutilated by the enemy nation is very painful. Today, the entire village and the nation is pained. The Indian government must hit back in the best way. That will give us some relief."
Seeking more powers for the army, Joginder said, "Every time our soldiers are killed, statements follow. But it is time to act," he added.
Another villager, Sukhwinder Singh, who retired from the BSF, said, "We are a bigger nation and we need to act tough so that our soldiers are not treated like this. Pakistan is just taking our humanity as our weakness. It's time to teach them a lesson. We are a village of soldiers, so we are upset."
Another soldier, Daljit Singh, who retired in 2012, said, "The ground situation can be exactly judged by a sentry on a post and not the Prime Minister. The government must give a free hand to the army and troops should not be left waiting for orders."
Close