Shushila Devi clinches silver in judo 48kg final, wins 7th medal for India at Commonwealth Games 2022
Published on Aug 01, 2022 09:59 PM IST
Shushila Devi Likmabam got a silver in women's judo 48kg final, giving India its seventh medal of the Commonwealth Games 2022.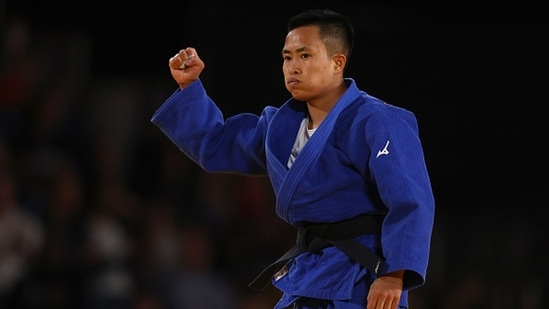 Shushila Devi Likmabam got a silver in women's judo 48kg final, giving India its seventh medal of the Commonwealth Games 2022. Shushila, who earlier in the day, had defeated Harriet Bonface in the quarterfinal, notched up a second win by beating Priscilla Morand of Mauritius in the semis to assure herself a medal. With a silver guaranteed, Sushila was in for a gold finish, but came up short against South Africa's Michaela Whitebooi in the final, nonetheless ensuring her second CWG medal.
Shushila lost a close contest, with Whitebooi winning the bout in the golden score period. The Indian judoka, who won a silver medal at the 2014 CWG and had represented India at the Tokyo Olympics last year, would be slightly disappointed with the result as one minor error cost her the match. But at the same time, Shushila would hold her head high knowing she's returning home with a second CWG medal - separated by eight years.
At the Coventry Arena, on Monday, Shushila competed with stitches on her knee but that didn't hold her back. The 27-year-old Indian, ranked 105 in the world, put up a sensational performance to upset the top-seed and World No. 30, Morand, in the semi-finals. Come the final, Shushila may have lost the gold medal match, but not without putting up a brave fight.
"What Shushila did was beyond expectations. We were counting on her for a medal but to beat the top seed and win a medal is incredible," said India's chief coach Jiwan Kumar Sharma. "We were just hoping that her stitches should not come out. It's been a difficult phase for her after she injured herself at the camp in Delhi and also could not go for the exposure tour."
In between her two CWG medals, Shushila kept making waves for India in judo. She won a silver medal at the Hong Kong Asia Open 2018 & 2019, to go with two 5th place finishes at the Tashkent Grand Prix and Zagreb Grand Prix, both in the year 2019.
Right from the very beginning, Shushila showed signs of a champion excelling in events ranging from local to the prestigious Commonwealth Games. Her uncle, Likmabam Dinit who has been an international Judo player, took Shushila to the Khuman Lampak in December 2002.
In Khuman, Shushila started receiving training at a very young age and also trained under Sabitri Chanu of Sports Authority of India (SAI) and Special Area Games (SAG) Khuman Lampak. Shushila became a known name after she won a silver medal at 2014 Commonwealth Games held in Glasgow, Scotland. On July 05, she became the first Indian judoka to book a berth at the Tokyo Olympics.
Personalise your news feed. Follow trending topics