"As many as 34 emails were sent to various accounts from these official IDs," a police officer said. Police suspect that the accused used the official SEBI accounts to steal some confidential information about the recipients of the emails.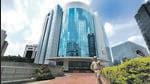 Updated on Jul 17, 2022 05:00 AM IST
SEBI Recruitment 2022: Securities and Exchange Board of India has invited applications from candidates for Officer Grade A ( Assistant manager) posts. The application process has started.
Updated on Jul 14, 2022 05:50 PM IST
The Securities and Exchange Board of India (SEBI) said Reliance did not disclose the deal even after newspaper reports in March 2020 published price-sensitive details about the imminent investment that led to a spike in its shares.

Published on Jun 21, 2022 01:46 AM IST
SEBI Grade A Phase 2 results: The Securities and Exchange Board of India (SEBI) on Thursday, April 7, 2022 declared the result of Phase 2 main examination for the recruitment of Grade A Officers on its official website.

Published on Apr 07, 2022 08:07 PM IST
Sebi in February barred Reliance Home Finance Ltd, industrialist Anil Ambani and three other individuals from the securities market for allegedly siphoning off funds from the company.

Published on Mar 25, 2022 11:10 PM IST