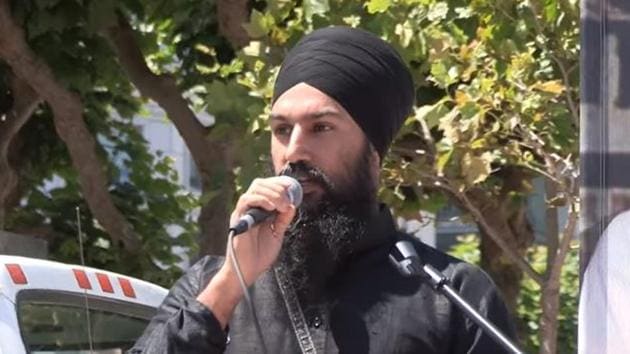 Amid backlash, Canada's Jagmeet Singh accepts Parmar behind 1985 AI flight bombing
New Democratic Party leader Jagmeet Singh has for the first time accepted that Babbar Khalsa International founder Talwinder Singh Parmar was the man behind the terrorist bombing of Air India flight 182 in 1985.
UPDATED ON MAR 19, 2018 12:16 AM IST
Facing sustained attack over his appearance at a rally featuring posters of Khalistani leader Jarnail Singh Bhindranwale and attending an event organised by a separatist group, New Democratic Party leader Jagmeet Singh has for the first time accepted that Babbar Khalsa International founder Talwinder Singh Parmar was the man behind the terrorist bombing of Air India flight 182 in 1985.
In a series of interviews, Singh finally seemed to have accepted the reality about Parmar. He told national broadcaster CBC: "There was an inquiry that was conducted into this horrible terrorist act. The inquiry identified specifically Talwinder Singh Parmar, and I accept the findings of the investigation…I accept them and I condemn all those responsible."
Nearly six months after he evaded questions about posters of Parmar being displayed at some gurdwaras in Canada during an interview with CBC's Terry Milewski, Singh also took a stand on the matter, saying: "Personally, I think the displaying of a picture of Mr Parmar is something that re-traumatises and hurts and injures people that are suffering so much in terms of that loss in their lives."
He said he didn't think such glorification was "appropriate" and added, "I don't think it should be done. It doesn't help us move forward with peace and reconciliation."
Read | Canada's Jagmeet Singh disavows terrorism amid controversy over 'pro-Khalistani' event in 2015
The bombing of Air India flight 182, planned and operationalised in Canada, killed 329 people, including 268 Canadian citizens. It remains the worst terrorist incident in Canada's history. Singh's evasive stance on the Khalistan issue has been in focus since he was elected head of the NDP, one of Canada's three biggest political parties, last year.
Singh has come under tremendous pressure in recent days following a report in the Canadian daily Globe and Mail that he attended a "sovereignty" rally in San Francisco in 2015, and participated in a panel in London in February 2016 that was hosted by a hardline group supporting Khalistan.
However, as Singh made multiple media appearances to try and repair the damage, the chair of the Air India 182 Victims Families Association said he was "not impressed" with Singh's latest statements.
"I think it's just a whitewash. Basically, he's saying whatever he's told to answer by his advisors," Bal Gupta said.
CBC also reported Singh had "no qualms" about attending rallies in future where those like Bhindranwale, who birthed the Khalistan movement, are honoured.
"No, I would go in the future," he said, in response to a question during an interview on CTV. "When I have an opportunity to speak at events, I speak from that position, where I can take that opportunity to share my beliefs and my ideas, and if I don't, the other side is I could leave those opportunities vacant and someone else can talk and share other ideas that maybe I don't agree with," he said, attempting to explain his position.
But Gupta, who lost his wife Ramwati in the Kanishka bombing, alluded to Singh's intent to attend such events in the future and said: "You are known by the company you keep." He accused Singh of "using arguments that make no sense at all".
"Let him go and say to these guys Khalistan is a bad idea," Gupta said, countering Singh's assertion that India targeted Sikhs during the 1980s.
Referring to the veneration of Bhindranwale at such events, he added, "Somebody should ask him (Singh) how many people, Sikhs and Hindus, Bhindranwale got killed. Those numbers runs in tens of thousands."
Former British Columbia premier Ujjal Dosanjh described Singh's stand on such events as "dishonest and unworthy of the leader of a major national political party".
Dosanjh, who has battled Khalistanis in Canada for decades, was also not taken with Singh's statements. He said when Singh "denounced" Parmar's role in the Air India bombing, he felt the young NDP leader was "beginning to understand" the issues involved.
However, when Singh pivoted to stating he will continue attending pro-Khalistan rallies, Dosanjh thought he was "digging himself deeper".
Dosanjh said, "From my perspective, that is just not on for a leader of a national political party in Canada to be standing with people who want to dismember a friendly country. He still doesn't understand what he's doing, he's trying to keep his foot in the door with the Khalistanis while pretending he's a changed man. You can't have it both ways."
Increased media scrutiny of Singh comes as Canadians have grown more aware of the separatist movement being staged on their soil, following the controversy over Canadian Prime Minister Justin Trudeau's visit to India in February.
Close