'China's Covid wave worse than estimated, peak of 36k deaths a day likely'
Jan 17, 2023 10:06 PM IST
China re-opened its borders on January 8 after having abruptly ended its so-called Zero Covid policy of frequent testing, travel curbs and mass lockdowns the month before, prompted by unprecedented nationwide protests
New Delhi: The Covid-19 outbreak in China is likely to play out in a longer, more severe wave than previously thought with approximately 36,000 deaths likely on January 26, according to a new projection released on Tuesday, which cited a big super-spreader events due to the Lunar New Year holidays in the country.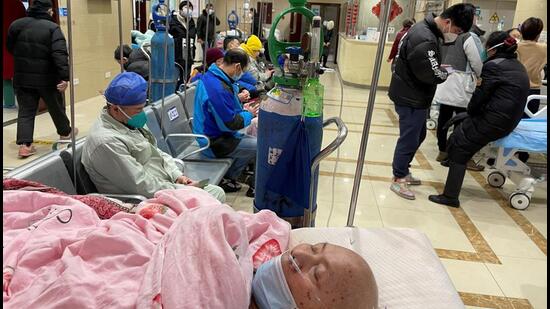 Analytics company Airfinity previously forecast two waves for China, with the number of deaths in a single day peaking at 25,000, but the calculus has since changed as festival travel appeared to have quickened the spread of the virus to several new provinces.
"We now expect to see one larger and more prolonged wave with infections reaching a higher peak," said Airfinity's Analytics director, Dr Matt Linley.
Sharper Covid-19 waves mean a higher burden on healthcare facilities. "Our forecast estimates a significant burden on China's healthcare system for the next fortnight and it is likely that many treatable patients could die due to overcrowded hospitals and lack of care," said Linley, while adding: "Some provinces, such as Hubei and Henan, could see patient demand for intensive care beds being six times hospital capacity".
China re-opened its borders on January 8 after having abruptly ended its so-called Zero Covid policy of frequent testing, travel curbs and mass lockdowns the month before, prompted by unprecedented nationwide protests.
The reopening has coincided with reports of hospitals and funeral homes being overwhelmed, even as air travel skyrocketed to reach volumes 63% of 2019 levels.
The Lunar New Year festival began on January 7, when Chinese people return to their hometowns in preparation for the holiday that are set to begin on January 21.
The festival migration runs until February 15.
According to Airfinity's revised projections, cases could peak at 4.8 million a day with 62 million infections predicted between January 13 and 27.
The company also said that its new modelling increases the estimate for the total number of cases since December 1 to 97.3 million from 72.9 million. On deaths, the company estimates since December 1, some 575,000 may have died due to Covid-19, up from the previous estimate of 436,780.
China on Saturday revised its Covid-19 fatalities figures for the first time since it reopened, pegging the number of deaths due to Covid-19 and with a concurrent Covid infection to close to 60,000. The number renewed calls for Beijing to be more forthcoming with data since it appears to be an underestimate.