Covid: Anti-Xi slogans raised; protests in Beijing, Shanghai
Updated on Nov 28, 2022 06:08 AM IST
Crowds in Shanghai demand President Xi's resignation over Chinese govt's policy to curb the pandemic.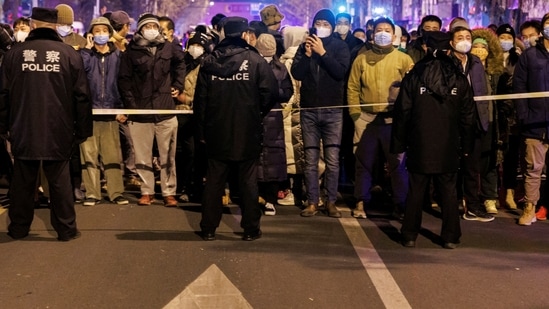 Beijing: China's rare public protests opposing stringent Covid lockdowns turned political on Sunday with protesters shouting slogans against President Xi Jinping and the ruling Communist Party, as the demonstrations spread to the university campuses in Beijing and Nanjing.
Shanghai, where thousands of protesters converged at the Wulumuqi Road - which is named after Xinjiang provincial capital Urumqi - on Saturday night, witnessed demonstrators clashing with police on Sunday night. Protesters also took to the streets in the cities of Wuhan and Chengdu on Sunday.
Videos posted on social media showed police arresting several protesters in Shanghai amid protests against their detention from the crowd.
According to videos posted on social media about the protests in Shanghai, people were heard openly shouting slogans such as "Xi Jinping, step down" and "Communist party, step down", the BBC report said.
Elsewhere protesters held blank white banners, while others lit candles and laid flowers for the victims in Urumqi, where 10 people were killed in a fire at a building reportedly under Covid lockdown on Thursday.
The protests appear to be posing a major challenge for Xi, just over a month into his third term in power.
Students join protests in Beijing, Nanjing
Students' protests broke out in the prestigious Tsinghua University in Beijing as well as Communication University in Nanjing. Photos and videos posted online showed students holding vigils for the Urumqi fire victims.
Students said hundreds of people took part in one such demonstration in Tsinghua University where they held up blank sheets of paper - an act which has become a symbol of defiance against Chinese censorship.
One protester in Shanghai said that he felt "shocked and a bit excited" to see people out on the streets, calling it the first time he'd seen such large-scale dissent in China.
He said lockdowns made him feel "sad, angry and hopeless", and had left him unable to see his unwell mother, who was undergoing cancer treatment.
A woman demonstrator said that police officers when asked how they felt about the protests, and the answer was "the same as you". But, she said, "they wear their uniforms so they're doing their job." Shanghai, a city of over 25 million, endured weeks of Covid lockdowns in April sparking protests.
In Beijing, people from several compounds, under lockdowns for days, also staged protests, leading to officials withdrawing the curbs.
State TV cuts maskless World Cup scenes
China's state broadcaster is cutting close-up shots of maskless fans at the Qatar World Cup.
During a live broadcast of Sunday's game between Japan and Costa Rica, state broadcaster CCTV Sports replaced close-up shots of maskless fans waving flags with images of players, officials or the football stadium, AFP observed.
Tens of millions of people in China were under some form of lockdown as of Sunday - a contrast with the raucous World Cup crowds that have infuriated many Chinese social media users. An open letter questioning the country's Covid-19 policies and asking if China was "on the same planet" as Qatar spread on the popular WeChat messaging app on Tuesday, before censors removed it from the platform.
Topics