KP Oli says Nepal can be a bridge between India, China
Updated on Jun 23, 2018 10:59 PM IST
Nepal and China have signed several agreements on infrastructure development and connectivity including signing more than 10 agreements covering technology, transportation and political cooperation.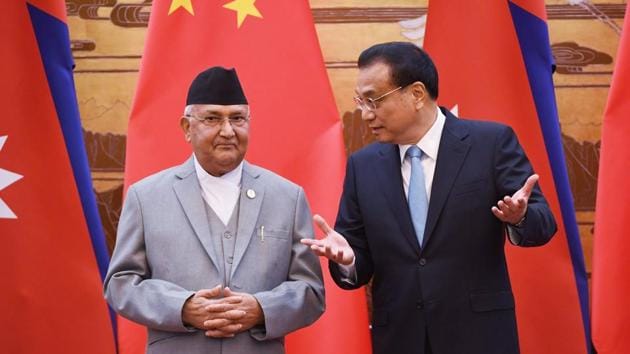 Hindustan Times, Beijing |
, Beijing
Sutirtho Patranobis
Nepal can be a bridge between India and China as it wants to leverage its friendship with both the countries to boost its own development, Nepalese Prime Minister KP Sharma Oli has said.
Oli, currently on a visit to Beijing, said in an interview with state-run Global Times tabloid that Nepal has "broad, comprehensive and multi-faceted" relations with India and China.
"We believe that Nepal can serve as a bridge between our two neighbours. In fact, we want to move from the state of a land-locked to a land-linked country through the development of adequate cross-border connectivity. Our friendship with both neighbours places us in an advantageous position to realise this goal," he said.
Since the Left Alliance led by him had formed government in February, Nepal had intensified engagements with both its neighbours, Oli said. "In this short span of time, there have been exchanges of prime ministerial visits between Nepal and India and I now visit China," he added.
Both India and China "receive top priority" in Nepal's foreign policy, he said.
Nepal and China have signed several agreements on infrastructure development and connectivity during Oli's visit, including one on a feasibility study for a railway link between the Tibetan city of Xigaze and Nepal's capital Kathmandu.
The two sides signed more than 10 agreements covering technology, transportation and political cooperation.
Oli said Nepal is focussed on fulfilling its developmental needs.
"Nepal's developmental needs are immense and we can materialise our dreams for growth and prosperity only through meaningful and mutually beneficial economic partnership with both our neighbours," he said.
"Fortunately for us, both our neighbours are rising in global stature and making tremendous progress in every area of development. They are in a position to support Nepal in its developmental journey."
Oli, however, singled out China while talking about expanding cooperation in connectivity.
"There is a very good prospect for expanding cooperation between Nepal and China…Development cannot take place without investment in vital infrastructure and productive sectors," he said.
"Connectivity remains at the core of economic prosperity. Here, our friendly neighbour, China, can help us a lot."
China, Oli said, has the resources and capacity to help Nepal achieve its development goals.
Close Story
'Top secret' documents seized in raid on Donald Trump's home: Report

FBI agents recovered records marked "top secret" during their search of former president Donald Trump's Florida estate, according to documents made public Friday in a probe that includes possible violations of the US Espionage Act. The warrant and related materials, unsealed by a Florida judge, showed agents took away with them a significant amount of classified files after the raid, which ignited a political firestorm in an already bitterly divided country.

Salman Rushdie had multiple stab wounds, says doctor who helped him

Salman Rushdie suffered multiple stab wounds, including one to the right side of his neck, and was lying in a pool of blood under his body after he was attacked at an event here on Friday, according to a doctor who helped the Mumbai-born controversial author following the brutal assault. Rushdie was attacked and stabbed in the neck on Friday while onstage in Chautauqua in Western New York, New York Police said.

Montenegro mass shooting leaves 12 dead, 6 injured

Twelve people including a gunman were killed in a mass shooting in Montenegro on Friday, according to local media reports, while another six were injured. Police at the scene in the western Montenegrin city of Cetinje declined to comment on the incident. The media reports said a man from Cetinje had opened fire at random in his neighbourhood after a family dispute, killing 11 people and injuring six others.

Terrible day for authors everywhere, say Salman Rushdie's peers after NY attack

Moments after the 75-year-old Booker Prize winner Salman Rushdie was attacked on a stage in New York, several celebrated authors took to Twitter to express their concern. Stephen King, the author of several horror books, including 'It' and 'The Shining', took to Twitter and wrote 'I hope Salman Rushdie is okay.' The US senator of New York Chuck Schumer called the incident a 'shocking and appalling attack on freedom of speech and thought.'

Salman Rushdie is alive and airlifted to safety, says New York governor

British author Salman Rushdie, who was attacked and stabbed in the neck at a literary event on Friday in western New York state, is alive and has been airlifted to safety, said New York's governor Kathy Hochul. Rushdie, whose writings made him the target of Iranian death threats, was taken by helicopter to a local hospital. Social media footage showed people rushing to Rushdie's aid and administrating emergency medical care.
Personalise your news feed. Follow trending topics