As Saif Ali Khan completes 46 trips around the sun this Tuesday, we decided to give him a gift like no other: 10 gifs that tell the love story of a sweet young man. This man could be you, the one sitting next to you in the metro or even an alien living 36 light years away.
There is love, there is tragedy, there is desperation, there is sadness. It is a concoction of a million emotions. Let's see if your heart can take it.
1. When bae asks for your jacket but she is an independent woman and should've brought her own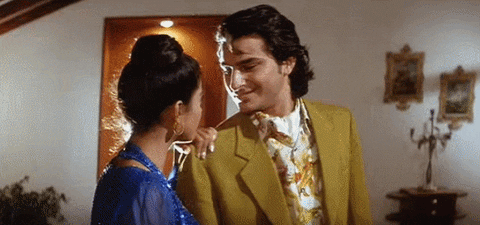 2. When the decision to not give her your jacket comes to back to bite you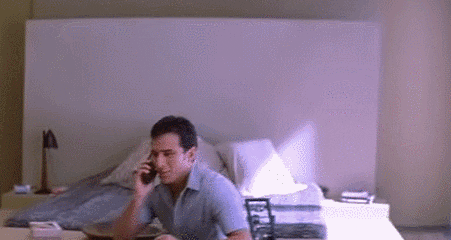 3. And then you're like
4.Also, you don't have a lot of human friends to ask for advice so you look for the next best thing
5. Finally, you just give up and go out hunting for those other fishes people keep talking about Out at a party. Falling in love every five minutes.
6. But then you and your BFF finally spot the real deal
7. And she is just too good to be true 8. But then your mum and dad aren't really appreciating your life choices
9. And decide that it's time to get your 'haath peele-d'. Choo choo! Arrange marriage train incoming! And turns out, the bride is far better than what your sorry self could ever deserve.
10. So you, your new boo and your whole entire squad decide it's time to celebrate. Things get out of hand real quick with the booze and one moment you are at the pub, the next you are flying (or flapping your arms, expecting to fly).
Happy Endings are the best endings... (Get the pun? Geddit?)
Read: Saif Ali Khan undergoes surgery, to be discharged soon
Read: Saif Ali Khan confirms wife Kareena Kapoor's pregnancy
Follow @htshowbiz for more