Lateral inductions in govt an opportunity to attract best talent, writes Amitabh Kant
They provide an opportunity to attract and retain the best from across the world that have a sector perspective and boost a ministry's capabilities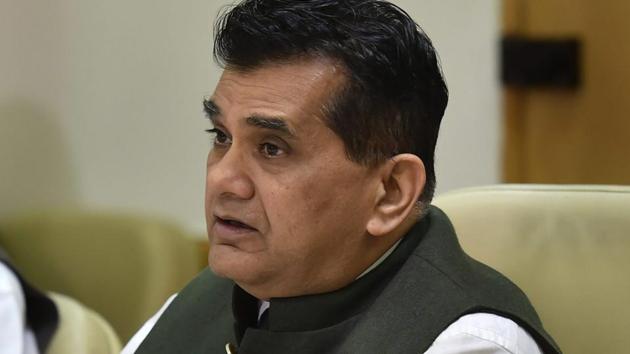 Updated on Jun 13, 2018 01:03 PM IST
Reforms and development in a rapidly evolving and growing economy brings with it specific complexities and requirements for additional thought leadership at the policy and implementation stages both on a state-wide basis as well as at the Centre. This is why the recent announcement by the Government of India of opening of ten positions at the joint secretary (JS) level as lateral entries is timely and necessary. India has a huge talent pool, laden with intellectual capital that outpaces any other country in the world. Unfortunately, at the policy and ministerial level, utilisation of the best and brightest has not been enabled at an institutional level. All of that is set to change now. From the time I joined service, there were lateral inductions of sector leaders such as Montek Ahluwalia, Vijay Kelkar, RV Shahi and others. So, while it is not the first time that lateral entries have been attempted, it is certainly the first time that a group of 10 at the joint secretary level is being inducted, out of the more than 450 JS-level positions in the government.
The process must be transparent, objective, and entirely based on merit. This is critical as the first step towards a broad-based institutionalisation of a wider and deeper talent pool focusing on specific skill-sets that fill the existing absence of talent in the government, tailored to the particular sector and enhanced by the industry-specific work experience that the lateral entry admissions will possess. It is also an opportunity to attract and retain the best and brightest from across the world that have a sector perspective and boost the ministry or department's capabilities and proficiency. The UPSC is time-tested and selects the brightest individuals with immense and irreplaceable levels of field experience. Those coming through the UPSC have unique field experiences and comprehend the challenges at the grassroots. Civil servants together with fresh inputs from lateral entrants can provide synergies to policy and implementation like never before. The role of civil servants becomes even more vital since for lateral inductions to get immersed in the government system will entail a steep learning curve. Significant hand-holding by the secretaries onward will be required to make the process effective. Possibly a three-month induction and orientation course at the Lal Bahadur Shastri Academy may be considered.
There are two outstanding examples at the secretary level of former bureaucrats with industry experience who are in critically important areas and excelling at present. Parameswaran Iyer returned from a position with the World Bank to head the Swachh Bharat Mission as secretary, ministry of drinking Water and sanitation. Similarly, Indu Bhushan, a former bureaucrat and senior official at the Asian Development Bank, was recently appointed as CEO of the landmark Ayushman Bharat Mission.
It is also imperative to allow civil servants and government officials to be placed in the private sector for periods of three to five years at a time. While the UPSC produces outstanding individuals, to make these individuals truly well-rounded, they should have the option to gain experience and specialisations through private-sector placements. Cross-mobility will provide the ultimate synergy. Just as an individual who chose to be an academic, a scientist, an economist, or an entrepreneur for example, and didn't take the UPSC exam now wants to join the government of India, they should be allowed to be inducted laterally in the private sector.
Disruption is taking place in many sectors, and the NITI Aayog has used the skill of industry professionals to great effect. Complementary skills and congenial competition are key aspects. If anything, by bringing in industry experience, it helps create a precedent and template for specialisations, and placement in areas of interest and aptitude. For example, the Atal Innovation Mission (AIM) is headed by a lateral, a seasoned professional with decades of industry experience in a leading technology consultancy, with a team of young laterals each with industry experience. AIM is today the catalyst for innovation, entrepreneurship and galvanizing the youth for a dynamic tomorrow.
Overall, NITI has a wide array of lateral representation, in areas as diverse as education, health, artificial intelligence, economics, agriculture, data analytics, law, energy, transport, sports, and other growth sectors. This is in many ways the first step towards transforming India.
India is on track to achieve efficiencies and excellence to bring the country up to speed with the rest of the world. Lateral inductions are just one of the many steps taken by the government of India in governance reforms that include outcome-based monitoring, ease of doing business, and digital technology reforms.
Lateral inductions and cross-mobility will bring in a fresh perspective and cutting edge ideas across both sectors as each avails the synergies created. The best and brightest talent must be allowed to bring a vibrancy, expertise and perspective to make India a leader in intellectual human capital. This forward-thinking move by the government sets the ball rolling towards a congenial competition based on merit on both on the private and public side. A free flow of exposure and opportunity will be the difference in integrating progressive reform across the board, as India motors towards a New India in 2022.
Amitabh Kant is CEO, NITI Aayog
The views expressed are personal
Close Story
Personalise your news feed. Follow trending topics