To decongest Delhi, say no to roadside parking
Abundant parking is anyway a misnomer: the more space you provide on road or for parking, the sooner it gets filled.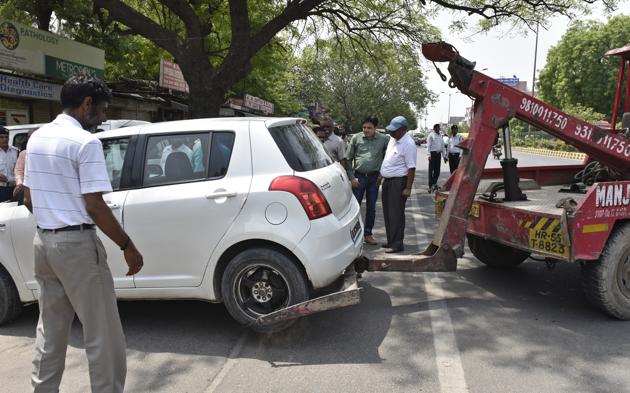 Updated on May 07, 2018 05:11 PM IST
The lion's share of Delhi's road space belongs to the city's 9.8 million cars and two-wheelers. A large part of this massive fleet does not even need to ply to occupy road space. That is why the authorities, directed by the Supreme Court two weeks ago to free walking spaces of encroachment, had no choice but to target the illegally parked cars.
The multi-agency Special Task Force, which has been assigned the job of clearing Delhi's public land of all encroachments, has in the past nine days, impounded or fined the owners of over 1,000 cars for parking illegally. The car owners were not happy and many complained how authorities had not provisioned for enough legal parking spots in the vicinity.
But can a city ever have enough parking space? Abundant parking is anyway a misnomer. As the theory of induced demand goes, the more space you provide on road or for parking, the sooner it gets filled.
Many urban centres in the United States, Canada and Australia have an oversupply of parking spots. Creation of excessive parking not only took up precious chunks of land in inner cities but also, show studies, led to increased drive-alone commutes.
Cities around the world are starting to rethink the vast areas of land set aside for parking. The convergence of several trends likely will mean this space becomes available for other uses.
In Delhi, parking already takes up an estimated 10% of the urban land. In some neighbourhoods, as much as 45% of circulation area is under parking encroachment, a study by Centre for Science and Environment reported a few years ago. Illegally parked cars occupy pedestrian space and fill up half the carriageway, squeezing traffic on arterial roads all through the day.
Vehicle owners in Delhi have always considered public parking space an entitlement. It is only recently that parking charges were hiked from a flat R 10 in most places to an hourly R 20. But unauthorised slots still comes free and are claimed as a matter of right if they happen to be outside one's shop, workplace or home. Little wonder that authorised parking, especially multi-level parking units, lie unused because those spots come for a fee.
It is only fair that we pay for the public space our cars occupy. Early this year, the draft parking policy — a first for Delhi — recommended a differential fee on only notified roads, even in residential neighbourhoods. The world's car capital, United States, had priced the kerbsides as early as the 1930s after the downtown shop owners complained about the parked cars left by workers during the day, reported the Citylab in an article tracking the history of parking meters.
Imagine the plight of the urban planner, circa 1930. What was once the transportation mode for the rich has become de rigueur for the masses. Streets meant for horse and buggy now needed to transport hundreds of cars to and from work every day. Then, of course, there was the question of parking.
The clutter of cars left no space for shoppers and business was suffering. So newspaperman Carl Magee from Oklahoma City created the parking meter. Placed along the kerb in July 1935, the meters charged a car a nickel an hour. Car owners were outraged at what they called a tax on "their right to own vehicles", the article reported. But by the early 1940s, there were more than 140,000 parking meters in operation in the US and generating some $10 million annually.
In a clever bit of legal manoeuvring, the Citylab stated, cities overcame the argument that they could not charge for the use of public spaces by claiming that drivers were paying for the enforcement of parking and not the space itself. That might have taken care of the problem of illegal parking. But reducing the use of car requires still harsher measures. Delhi, in particular, needs to reduce parking space to make its streets navigable.
Brazil's São Paulo, for instance, has got rid of as much as 10% — 4,000 slots — of its total parking space. Switzerland's Zurich implemented a kind of "cap and trade" of parking spots, where for every off-street spot built, an on-street parking spot was converted into a park or a community space, reported the Scientific American.
Impact. Biking culture has been growing in Sao Paulo since the early 2000s. Citizen cyclists, bloggers, and photographers helped increase public awareness of cycling culture through Bicicletada (Critical Mass rides) and other creative projects inspired by cycling activists around the world.
But to see through such reforms, a city needs effective enforcement. Delhi, for one, is chaotic because even the existing parking rules are seldom enforced. The draft parking policy does propose to delegate some of the enforcement and punitive powers under the Motor Vehicles Act, which the traffic police have, to municipal officers.
While the move will help align responsibility with accountability, Delhi needs to show more urgency in implementing the new parking policy. Beyond reclaiming mobility, it is also about breathing easy in a city rated among the most polluted in the world.
Topics
Close Story