Guftagoo, the only uninterrupted Bollywood celebrity show on Indian television
Updated on Aug 20, 2017 11:37 AM IST
The other Irfan: host of a popular personality-based TV show.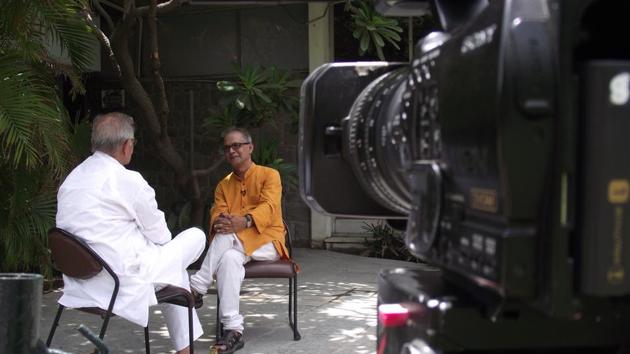 What were the best known names of Indian cinema doing when no one was looking? Pretty much what most of us do – wait for a big break or otherwise make something of themselves.
In Guftagoo, believed to be the only uninterrupted personality-based chat-show on Indian television, hosted by well-known television anchor Irfan on Rajya Sabha Televsion (RSTV), they drop their guard to talk about this.
"Tabassum's Phool Khile Hain Gulshan Gulshan (1972) had 114 episodes but with breaks. Simi Garewal's Rendezvous (1996) had 146 episodes but not a continuous run. Koffee with Karan (2004)'s first season was over in a year. Guftagoo begun on August 26, 2011, is still running and without a break," says Irfan.
A range of celebrities from top-notch actors of Indian cinema such as Irfan, Manoj Bajpayee, Nawazuddin Siddiqui, Raghubir Yadav and Rajkummar Rao, to all-time greats such as Amol Palekar, Jaya Bachchan, Shabana Azmi and the lyricist Gulzar have gone through the Irfan drill by agreeing to an informal deal.
"Being a public broadcaster, RSTV can't be used as a platform to promote their new film, but I promise them they can speak their hearts without interruption," says the anchor.
The programme thus makes an active attempt to snap the link between the actor and his product, the film.
In Guftagoo, an artiste is thus under no pressure to be cute or behave like an advertiser.
Akshay Kumar, for instance, was wary of the format in the beginning. "He warmed up in the course of the conversation. Manna Dey also was reluctant to give time as he said: 'Everyone begins an interview by asking me 'Which was your first song? I have been answering that for the last 50 years,'" recalls Irfan, a former radio jockey who also worked in the archive department of Doordarshan.
The Guftagoo format is different from other shows of its kind. This is an artist's life seen through his / mher achievements won through struggle, the doubts, the hard-won clarity; and there is uninterrupted talk-time to lay bare the creative process.
A moment of tension has also been built into the character of the programme. "It shouldn't seem all meetha-meetha [sugary]. There should be a moment when rassi taan jaye [things get taut]," reveals the anchor.
Gulzar, recalling his experience of sitting in the interviewee's chair, says: "There were no readymade questions. Unlike other interviews, questions arose out of my answers. It wasn't just about recapping my life for me, mentioning this or that event, or an award, and then asking me how I felt about it. In my memory, I have not talked about poetry as I have with him."
Guftagoo is telecast every Sunday but its duration varies. (Those who miss it catch up on RSTV's YouTube channel.) The programme is usually half an hour long but can stretch to one-and-a-half hours or even be shown in three parts if the interviewee has had a rather memorable journey.
Most programmes on electronic media have a target audience. This RSTV show is no exception.
"The idea is that the person living in the smallest of towns should feel inspired, and not defeated, by the journey. Famous people don't begin by being famous. And not all are born with a silver spoon in their mouth. But all their work maps, in a way, the social life of the nation," says Irfan. The programme also has a substantial diaspora audience.
Some of the most interesting Guftagoo interviews have been with actors Deepak Dobriyal, recalling his routine of delivering albums to Ramgopal Varma's office in the hope of a call, giving up, and then landing the lead role in RGV's Not a Love Story six years later; Irfan, the actor, talking, among other things, about wearing his hair long and giving it a wave with a hairdryer after someone remarked that he resembled Mithun Chakraborty, and of the hair inevitably going limp after the hairdryer's effect waned.
The sleeper hit, however, has been the chat with yesteryear legend Nimmi, the actress who spent most of her career speaking or singing with a raised eyebrow and a curl to her mouth, most memorable in the RK banner film Barsaat.
Nimmi's Guftagoo got 658,647 views. The feedback on the YouTube channel pointed to the curiosity factor — people weren't expecting her to be alive!
"The surprise element is an important part of the show," says Irfan. Artistes outside of cinema – from poetry, theatre and painting – have also been on it. Abhishek Chaubey and Mrinal Sen, filmmakers as different from each other as chalk and cheese, are both soon to be seen in forthcoming shows facing this anchor's relentless curiosity.
Personalise your news feed. Follow trending topics