Tanushree Dutta sues Rakhi Sawant for Rs 10 cr, gets threatened with Rs 50 cr countersuit
Updated on Oct 23, 2018 03:23 PM IST
Actor Tanushree Dutta has sued Rakhi Sawant for Rs 10 crore after Rakhi made comments questioning her motivations in the ongoing #MeToo movement. Rakhi has now threatened Tanushree with a countersuit.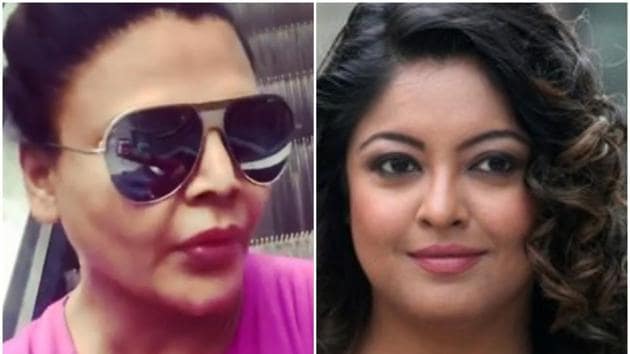 Actor Tanushree Dutta, whose allegations of sexual harassment against Nana Patekar are said to have opened the doors for the #MeToo movement in India, has filed a Rs 10 crore defamation lawsuit against Rakhi Sawant. Rakhi had taken Patekar's side after the allegations were first made a few weeks ago and had insinuated that Tanushree was seeking fame. Tanushree's lawyer in a statement to a news channel said, "We have filed a criminal and civil defamation case against Rakhi Sawant for maligning my client's character and image."
Rakhi, who replaced Tanushree on the film in which the alleged harassment took place, had previously said, "These are fake allegations on Nana Patekar ji and Ganesh Acharya (choreographer)."
Tanushree had alleged that Nana Patekar, a National Award-winning actor, had made her feel uncomfortable on the sets of the 2008 film Horn OK Pleassss by inserting lewd dance steps at the last moment and threatening her with goons. "Tanushree Dutta has gone mad. She was in a coma for 10 years. She has just woken up after a coma of 10 years. I don't like saying such things about a woman. I respect women. But this Tanushree Dutta who has returned from America after 10 years is vomiting such things, because she has exhausted all the money from her bank account and has no work, has nothing and is blaming Nana Patekar ji. She is talking about the past, which has nothing to do with the incident. Nothing of this sort ever happened. If something like this would have happened...have you seen my song with Nana Patekar...he did not even touch me a little," added Rakhi.
Tanushree's allegations empowered several other women to accuse their alleged harassers in the film industry. Since then, Bollywood personalities such as directors Subhash Ghai, Sajid Khan, Rajat Kapoor, Vikas Bahl, actor Alok Nath, musicians Anu Malik and Kailash Kher, among many others have been named. Tanushree has also filed a police complaint against Patekar, who has denied all allegations and has quit the film he was working on, Housefull 4.
Rakhi, in response, has threatened to sue Tanushree for Rs 50 crore. In a series of social media videos, Rakhi said, "She has filed a Defamation case against me for 10 crores I will file a 50 crore defamation case against Tanushree for calling me a lower class girl."
Follow @htshowbiz for more
Personalise your news feed. Follow trending topics